After a year-long hiatus, the much anticipated annual Nantucket Retina meeting was back… better than ever! This was a special meeting for many reasons but most importantly, the group celebrated their 35th anniversary. Meeting founders, Donald J. D'Amico, MD, and Charles C. Barr, MD, greeted all bright and early Thursday morning following the kick-off cocktail hour the night before at the White Elephant. Drs. D'Amico and Barr presented the meeting's rich history as well as the many celebrated world renowned retina physicians who have participated at Nantucket Retina over the last four decades. As has been the tradition since the first meeting in July 1986—when a group of friends and ophthalmologists, early in their retina careers, decided to travel to Nantucket together with their families—name tags and other formalities were notably absent, and the meeting began with casual introductions as participants stood to introduce themselves one-by-one.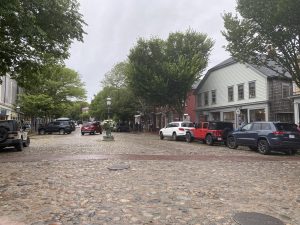 Main Street covered with cobblestones on Nantucket Island. 
The two-day meeting featured many wonderful topics including: Gene Therapies, Treatments in ARMD, Unusual Case studies, the use of artificial intelligence, and many more cutting edge lectures. Industry also participated in the meeting, presenting their current technologies in the retina space. This year's corporate partners included ALCON, EyePointPharmaceuticals, Mallinckrodt Pharmaceuticals, Samsara Vision, SparingVision and Spark Therapeutics. This year's meeting program is available by clicking here.
The meeting is truly a gem, a wonderful mix of retina specialists and their peers. Colleagues at different stages of their careers gather in this informal and inviting setting to learn, discuss and debate all things retina.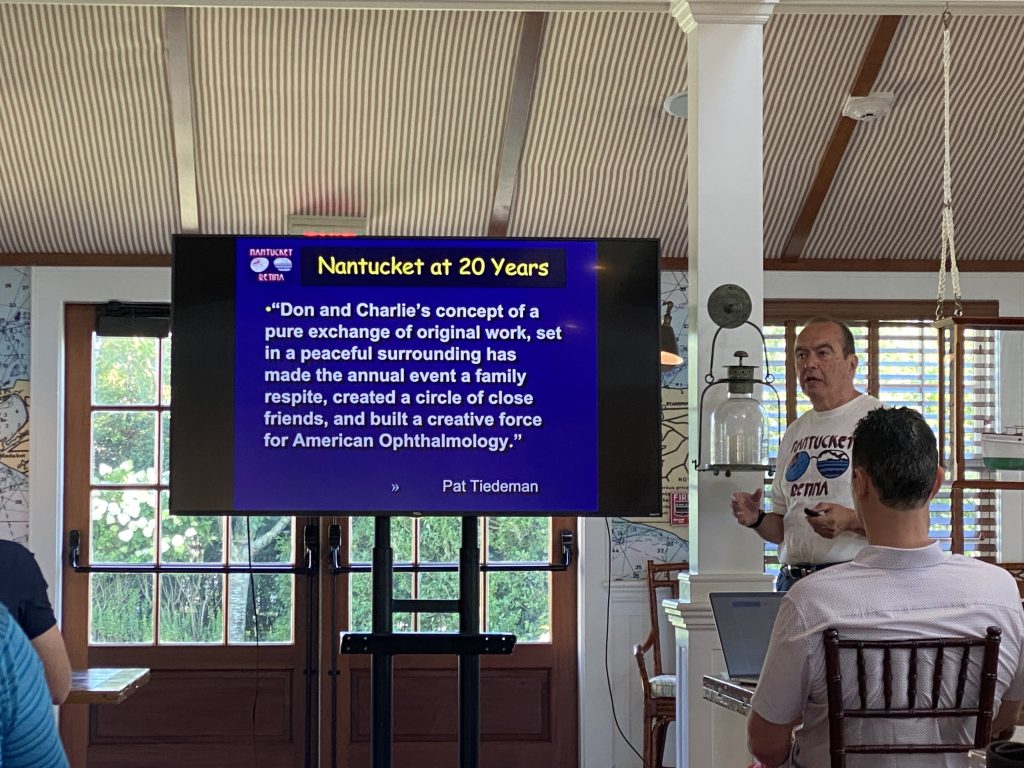 Dr. Donald J. D'Amico outlines Nantucket Retina meeting history. "Don and Charlie's concept of a pure exchange of original work, set in a peaceful surroundings has made the annual event a family respite, created a circle of close friends  and built a creative force for American Ophthalmology." The true spirit of Nantucket Retina is very eloquently stated by Pat Tiedeman, wife of Dr. Jim Tiedeman — meeting attendees nearly every year since 1986.
The highlight of the meeting, second only to the wonderful lectures was the annual Nantucket Retina Clambake, where retina specialist and their families enjoy a fun evening of lobster, clams, oyster and chowdah.
Please be sure to mark your calendars for the 36th Annual Nantucket Retina meeting: July 27 – 30, 2022. Registration is set to open in October 2021, at which time, tickets can be purchased through the organization's website:http://www.nantucketretina.org or here. Additional questions or requests may be directed to Laura (D'Amico) Melanson at nantucketretina@gmail.com.
Hope to see you next Summer in Nantucket.