Perfection, is a powerful word whether written or spoken. It effectively describes the Alcon Retina Fellows Institute held on Saturday, November 23 in Fort Worth, Texas. This was Alcon's second Retina Fellows Institute. The prior year's was so successful that it was hard to imagine catching lightening in a jar again. It happened!
The education piece occurs in several ways: didactic, open discussion, hands-on training and interacting with 40 retina fellows and 20 Attending surgeons. The course design for this program was a collaboration that included Alcon Surgical Retina and the Program Director, Yannek I. Leiderman, MD, PhD, Associate Professor of Ophthalmology and Co-Director, Fellowship in Vitreoretinal Surgery, University of Illinois in Chicago, IL.
The institute commenced with Dr. Leiderman and Alcon welcoming the first year Fellows. Dr. Leiderman outlined the agenda for the forty first year Retina fellows in attendance from across the United States.
"The Retina Fellows Institute was conceived out of a desire to expand our surgical teaching paradigm beyond didactic instruction and supervised surgery. The Retina Fellows Institute is a first-in-class surgical simulation laboratory course using high-fidelity models of commonly encountered surgical pathology allowing for hands-on skills transfer. Developing surgical models presented a unique challenge requiring the design of synthetic surgical pathology adapted to existing simulation technology. Bringing together world-class surgical teachers with fellows in vitreoretinal surgery from around the country in a state-of-the-art surgical simulation facility equipped with a full array of surgical instrumentation was a remarkable accomplishment. It was a privilege to be part of a team with such wide-ranging expertise. At the heart of this collaborative effort was a core of truly gifted surgical teachers and a visionary leader in the ophthalmic surgical industry. Ultimately we had one shared goal – to further the development of the next generation of vitreoretinal surgeons," commented Dr. Leiderman.
The morning started with didactic lectures from Drs.' Donald J. D'Amico and John W. Kitchens. Dr. Kitchens showed short video snippets utilizing NGENUITY®, the Digitally Assisted Vitreoretinal Surgery Viewing System. Dr. Kitchens said, "Only Alcon could pull of such a spectacular experience. Lectures and hands-on skills transfer labs with one-on-one mentorship… This experience (my first as a faculty member) left me asking two things: how could this get any better? and who had the better time: the fellows or the faculty?"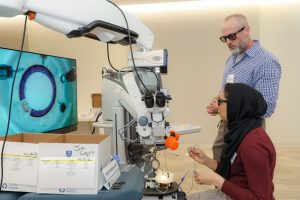 Dr. John W. Kitchens instructs on NGENUITY
& 3D Visualization
The didactic program continued with Drs. Timothy G. Murray, Maria H. Berrocal, highlighting membrane peeling techniques as well as Tractional Retinal Detachment surgical pearls. The discussion then shifted to Sutured v. Sutureless IOL Fixation presented by Drs. Omesh P. Gupta, Jonathan L. Prenner and Jeremy D. Wolfe. Dr. Eric D. Nudleman concluded the first session by showing several NGENUITY surgical cases.
Next, it was off to the morning rotations. They included hands-on training with Attendings at wet lab stations where the fellows were shoulder to shoulder with retina specialists: Nina Berrocal, Steve Charles, Donald D'Amico, Omesh Gupta, Lisa Olmos DeKoo, Jon Prenner, Christina Weng and Jeremy Wolfe. The wet-lab experience provided the opportunity to ask questions as well learn and develop essential skills. Drs.' Maria Berrocal, Caroline Baumal and Aleksandra Rachitskaya trained fellows on 3D surgery and vitrectomy probe technology. As this was occurring, Drs.' Timothy Murray, Eric Nudleman, Rishi Singh, Jay Sridhar, Yoshihiro Yonekawa worked with the fellows on 3D Visualization, ERM/ILM and Sutured IOL's.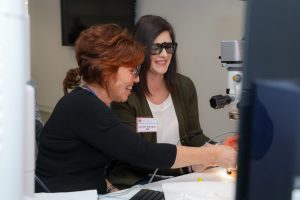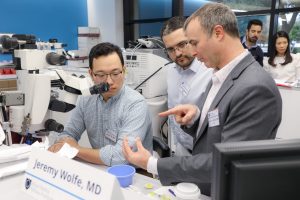 Dr. Maria H. Berrocal explains                             Dr. Jeremy D. Wolfe demonstrates technique in
her surgical technique                                              the wet lab 
The late morning didactics were outstanding. Dr. Nina Berrocal provided both her impressions as well as her fellows' impressions for vitreous removal. Key Takeaways included: Stain It; Lift It; Cut It. Her presentation included her fellow's remarks along with short video vignettes. Dr. Yannek Leiderman and Christina Weng discussed the importance of ergonomics and proper surgical form. Dr. Dean Eliott stressed the importance of Surgical Tactics in PVR.
Dr. Kirk H. Packo provided his perspective on the History of Retina. His lecture was comprehensive, thought provoking and reminded everyone how far retina has evolved. He also paid tribute to the luminaries who have blazed the trail for better surgical technology, innovations, and the desire to move the global retina world forward. Culminating in better patient outcomes.
The afternoon was busy with more rotations. The day was concluded with Elective opportunities for the fellows to chat with Attendings on a myriad of topics. Dr. R. V. Paul Chan provided guidance on How to Get Involved in Global Ophthalmology. Drs. Lisa Olmos deKoo and Jay Sridhar shared the three best things they learned from their fellows. Drs. Gupta, Nudelman, Prenner and Wolfe chatted on How to Evaluate Job Opportunities: Do's and Don't's.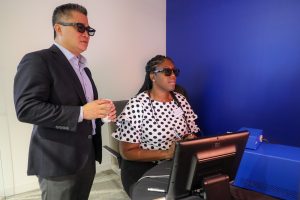 Dr. R.V. Paul Chan outlining key takeaways
Closing remarks and evaluations were completed by both Fellows and the Attendings.
Dr. Frank Brodie, Vitreoretinal Fellow, Duke University Eye Center said, "The Alcon Retina Fellows Institute was an incredible opportunity not just to be taught by some of the giants and rising stars in the field, but the ability to sit along side them in a wet lab as they coached you through maneuvers and challenging scenarios. It provided the combination of instruction in principles of surgery along with tips, tricks and tactics of leading surgeons. In addition we got to reconnect as a class after last seeing each other on the interview trail, it was great to see where everyone ended up and share our experiences. I can't recommend the weekend highly enough!" and Attending Dr. Christina Weng captured the essence of the institute when she stated, "The Alcon Retina Fellows Institute is truly best-in-class when it comes to hands-on education for VR surgeons in training. It's an incredible opportunity to learn how to operate with some of field's most talented surgeons at your side."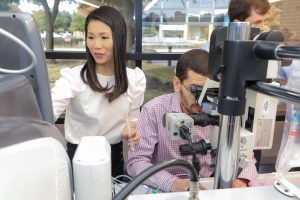 Dr. Christina Y. Weng working in the wet lab
Stay tuned for details on Alcon's Retina Fellows Institute 2020. We know it will be another comprehensive educational opportunity for first year Fellows.
Photos: Kevin Caldwell Photography