Today, RetinaLink's Staying the Course is honored to feature Dr. R. Ross Lakhanpal who practices at The Retina Care Center in Baltimore, MD with 10 locations. He is a member of the medical staff of Timonium Surgical Center and Sinai Hospital of Baltimore. Dr. Lakhanpal is one of the founding members and current President of Vit-Buckle Society (VBS).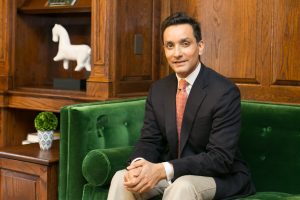 Dr. R. Ross Lakhanpal 

"It's important to adapt to whatever is happening. COVID-19 is truly unprecedented and imperative to focus on health, life and education," Dr. Lakhanpal said. "Personally, I strive to remain upbeat. Being optimistic is paramount and reassuring for patients so they know we can properly manage their retinal pathology. In my opinion, this is the biggest shift I've ever seen since starting in practice. My patients are more appreciative than before and I've been in practice 13 years now. 80 to 90% have said "thank you" for risking your health and your family's health."
RetinaLink (RL): Outline what patients you are seeing in your private practice.
R. Ross Lakhanpal, MD (RRL): As a private practice, we may triage our patients differently than our colleagues in an academic setting. I extensively review my patients charts to determine who is at a high or low risk and needs to come into the practice. We have a fairly high number of at-risk patients. In March and April, our patient volume had decreased 40 to 45% from 2019 and our cancellations increased substantially. At that time, we were only seeing post-ops, IVI's and patients experiencing new visual disturbances. We were spacing out appointment visits so as to not have too may patients in the waiting room at the same time. We required masks for all patients and told all family members that they needed to wait outside the office. This was a complete paradigm shift based on the situation.
RL: When will the state of Maryland allow elective surgery again?
RRL: Maryland started elective surgeries again on May 15th.
While the state was closed, we looked at every patient to determine if they were urgent/emergent. I'm part owner in our Ambulatory Surgery Center and some patients Quality of Life (QOL), was a key factor for surgery, either monocular patients or patients with surgical complications. By individualizing each surgical decision, we evaluated the patient's functional ability. As a Board member, I sometimes had to approve/re-consider surgical procedures for our specialty as well as others based on preferred practice patterns. Fortunately, we had no new cases of COVID at our center for any of our patients or staff members. We will remain vigilant as our cases increase now.

RL: It was a big decision for Vit-Buckle Society to cancel this year's annual meeting in Miami. How was that difficult decision made?
RRL: As the COVID-19 pandemic was starting to gain momentum, I scheduled a conference call for the second week of March with VBS' Board of Trustees and Executive Committee. I will readily admit it was a spirited discussion with 17 Type A individuals expressing their strong opinions whether to move forward, postpone or cancel VBS VIII.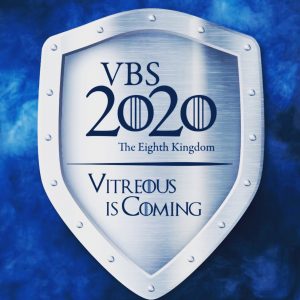 VBS 2020 – The Vitreous is Coming

On Tuesday, March 10th, at the time of our call, there were only 31 COVID-19 reported deaths and over 1,000 reported people COVID cases in the US. Other meetings had proceeded without any issues, therefore, we had conflicting information as to whether to proceed. We knew our meeting would be well attended by our colleagues from all over the US and Internationally. Tough decision, but I felt that the number of cases would increase with more testing and that our attendees would then travel home from Miami to see their families, treat patients in clinic, operate and work with their practice colleagues and staff. As medical professionals, we are held to a higher standard. I recommended that we postpone. Thankfully, on the evening of March 10th, the critical vote determined it was best to postpone VBS VIII. The risk was simply too great to move forward with this year's meeting.
RL: Please describe the genesis for VBS' Virtual Series.
RRL: VBS BOT and EC decided we needed to do something…there was a calling from our colleagues for VBS to continue our message in 2020, even though we could not do a LIVE meeting. After much brainstorming, we wondered if we could host this year's meeting virtually? We have always put forward new ideas at each meeting, so why not a new platform? We immediately set up a Virtual Committee consisting of myself, Mrinali Gupta, Geeta Lalwani, Charlie Mango, Anton Orlin, Jay Sridhar, Yoshi Yonekawa and Charlie Wykoff. We wanted to incorporate a new virtual platform but with the same spirit and enthusiasm that VBS has demonstrated for the past 7 years in our annual meetings. The keys to our virtual success were the following: Incorporate ideas from our BOT and EC; loyalty from our presenters that they were willing to do their talks in this new platform; ensure proper virtual technology and support from our industry partners. Fortunately, we were able to organize and put out the first session within a month of our planned meeting, by the end of April, which was remarkable. It was definitely a team effort and I am so proud of our result thus far. We have sessions planned for the next few months.
RL: Please highlight your virtual VBS meeting on April 20.
RRL: Our first virtual series was April 20th to honor Dr. Robert Machemer's first vitrectomy 50 years ago. Our theme for 2020 was GOT, Game of Thrones, and we wore costumes throughout our broadcast which were a HUGE hit. VBS has always done things differently. We had a chat room available, questions for presenters, lively debate with Drs. Caroline Baumal and Gaurav Shah. One important objective was to open our meeting to as many people as possible.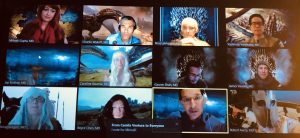 Montage featuring retina specialists during VBS' Virtual Meeting
We just received the metrics from GOT Virtual Series I. Over 1,200 registrants (US and International), 900 attendees participated for almost the entire 90 minutes. We opened registration to our International colleagues, Residents and Fellows. 95% of respondents ranked the virtual meeting experience 4.5 or 5 out of 5.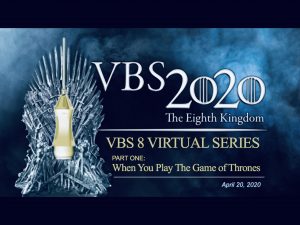 VBS 8 Virtual Series – Part One: When You Play
The Game of Thrones
We were ADAPTABLE to our new normal during the pandemic which was our goal. We are so pleased with the virtual aspect that we will host one per year to connect with our colleagues. This will be in addition to our annual live meeting, probably in the fall as a bridge to the following year.
RL: What's next for VBS Virtual Series and plan for 2021?
RRL: VBS Virtual Series – Part II is scheduled for Wednesday, June 24, 2020 and Part III is scheduled for Wednesday, July 29. Please block your calendar. We will be sending e-mails as a reminder.
We will go to Las Vegas in 2021 for our annual meeting. Save the Date for VBS IX at Aria in Las Vegas – April 8 – 10, 2021. For more information – https://vitbucklesociety.org
RL: What do you do to relax at the end of your long and busy day?
RRL:  Exercise and meditation are a huge help. The stress at the end of the day needs to be expended. I am also very thankful to be healthy and to have the ability to help others during this time. That gratification is reassuring every day. My wife, Mia, and I have been together since I was a medical student. She understands me and is always amazingly supportive. We've been through countless things together and it's a pleasure to spend more time together during this pandemic. In the evening, we walk in our neighborhood keeping a social distance from others. We'll celebrate 25 years of marriage in September and look forward to celebrating this momentous occasion. A positive support system in your life is more important now than ever. She has been amazing. My family and friends are a great resource for keeping me grounded as well. I am very fortunate and I remind myself of that every day.
Dr. Lakhanpal can be reached via e-mail – retinaross@gmail.com