RetinaLink's Staying the Course with Christina Y. Weng, MD, MBA. Dr. Weng is an Associate Professor of Ophthalmology and Fellowship Program Director-Vitreoretinal Diseases & Surgery, at Baylor College of Medicine, Cullen Eye Institute in Houston, TX.
Dr. Weng shares her COVID-19 experience and her new norm when seeing patients clinically and surgically. She also outlines her exercise regimen and best way to decompress after her long, busy day.
RetinaLink (RL): What reduction in patients have you seen in your clinic and surgery?

Christina Y. Weng, MD, MBA (CYW): I've seen a 70% decrease in my clinic and surgery. I follow the AAO and ASRS guidelines for treating patients. We continue to see our frequent flier patients with wet AMD and DME since they are at risk of vision loss if injections are skipped. Since so many of our elderly patients are at higher risk for severe illness from COVID-19, we have called those with less urgent conditions to see if they are stable and comfortable with deferring their visits. All recent post-ops and patients with redness, pain, flashes, floaters, and vision loss are seen.
RL: What the process for entering your medical professional building? What changes have been incorporated for patients? 
CYW: Most of the entrances are locked down. Each day, patients and employees are screened upon arrival in the front lobby. We answer a series of questions and have our temperature taken. Alcohol-based hand sanitizers are abundantly available throughout the building and frequent cleaning of elevators is done.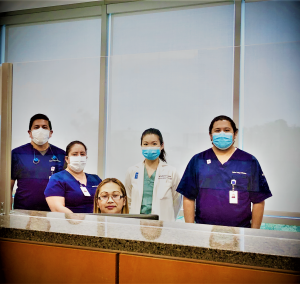 Dr. Weng and Cullen Eye Institute Team 
Patients are dropped off and we contact their caregiver/family member via mobile number when their visit is over. Patients are accompanied only when they need a translator or emotional support during their exam.
Plexiglass was placed at our front desk check-in to protect patients and receptionists. We rearranged our waiting room to ensure social distancing and removed all magazines and newspapers. Whenever possible, appointments are spread out by 15-30 minutes. We try to limit imaging to those patients for whom it is absolutely necessary.
I wear scrubs and a surgical mask to examine patients in clinic. We limit the number of people in the exam room as well as the number of rooms the patient visits. Our office has installed plastic shields at all slit lamps since we sit so close to our patients.
RL: What PPE are you wearing in the OR and are there any changes during pre and post-op recovery?
CYW: Last week I started wearing the N95 mask with a disposable surgical mask over it in the OR. We have a recycling program set up so that N95s can be reused. I have to admit that I find the N95 super uncomfortable.
Our hospital merged pre- and post-op areas to minimize contamination. Of course, the beds are placed at least 6 feet apart.
RL: What do you do to decompress at the end of a long day?
CYW: I was actually in the final stages of training for a half-marathon in March when the race was cancelled due to the pandemic. Luckily, I'm still able to run outside in parks and trails in my city. I love running because it allows me a chance to reflect on my day and think about things. In these times, it also makes me feel less isolated—it's easy for us to become a little stir crazy under stay-at-home orders. My friends and I have also held virtual happy hours on ZOOM to stay connected.
Dr. Christina Weng can be reached via e-mail – Christina.Weng@bcm.edu