Congratulations to the 2021 Ronald G. Michels' Fellowship Foundation award winners, Drs. Jordan D. Deaner, Edward Korot, Kenneth C. Fan and Cassie A. Ludwig. This brings the total number of award winners to 105. Indeed, an impressive number which continues to perpetuate Dr. Michels' legacy.
The Ronald G. Michels Fellowship Foundation was established in 1991 as a non-profit organization whose mission is to support second-year fellows training in vitreoretinal surgery in the United States. Training was key to Dr. Michels, who left the retina community too soon. This year, the Foundation awarded four  new vitreoretinal fellows the prestigious Ronald G. Michels Fellowship Foundation Award. Dr. Michels was a not only a pioneer in vitreoretinal surgery, he also impacted the lives of residents and fellows during their fellowship training at the Wilmer Eye Institute in Baltimore, MD.
Dr. Alexander J. Brucker welcomed everyone virtually to the 31st Ronald G. Michels' award recognition and remarked, "we regret that we are not together pressing shoulder to shoulder with each our old friends and most certainly meeting our new friends." A photo montage rolled after Dr. Brucker's comments which was a lovely tribute to the late Dr. Michels. Then, Dr. Charles "Pat" Wilkinson and Mrs. Alice Michels Wilkinson, Dr. Allison Michels-Pettinelli, Mr. Randy Michels and their families congratulated the 2021 award recipients.
Annual Meeting Master of Ceremonies, Jonathan L. Prenner, MD introduced each award-winning retina fellow and his or her mentor, each of whom outlined the many accomplishments of the respective awardee.
Dr. Lejla Vajzovic highlighted Dr. Jordan Deaner's accomplishments and said, "Jordan has a unique background growing up in a small town in rural Pennsylvania, only 300 people; he could have easily stayed there to help with family business, instead this incredibly motivated and gifted young man set out to pursue a career in medicine, something that probably a very few, if any, have done from his hometown. His path has been filled with outstanding academic achievements. And at Duke, he has been an unbelievable clinical, surgical and research powerhouse."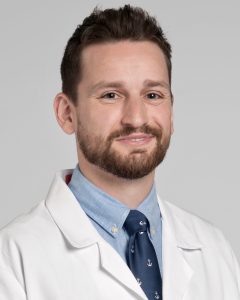 Jordan D. Deaner, MD
Duke University Eye Center
Durham, NC
Dr. Audina Berrocal outlined Dr. Fan's body of work at Bascom Palmer and commented, "Kenny Fan is the entire package. He is a great surgeon, keen clinician and astute researcher with a great sense of humor who loves to teach, mentor and be with his great family! What else can you ask for!"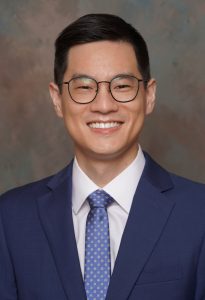 Kenneth C. Fan, MD, MBA
Bascom Palmer Eye Institute
Miami, FL
The Stanford Retina service which includes several Ronald G. Michels' award winners, Dr. Prithvi Mruthyunjaya, Byers Eye Institute Chief of Retina, Dr. Darius Moshfeghi, Drs. Diana Do and Natalia Callaway, who filmed a witty video to congratulate Dr. Edward Korot by going throughout the Retina service asking… "have you seen Eddie?" Once Dr. Korot was located, they presented him with the Ronald G. Michels award. Their video certainly brought a smile to everyone's face.
Dr. Mruthyunjaya said, "Stanford Retina faculties are incredibly proud of the hard work and accomplishments of Eddie Korot. He truly defines a renaissance thinker in our field – and it such a young stage of his career. He's always been passionate about the promise of machine learning in Ophthalmology and has taken every available opportunity to further the field. Personally, I most excited to see the numerous connections that Eddie has built in his training evolve into meaningful partnerships that will have high impact for our patients. I've said it before – Eddie Korot is a generational talent."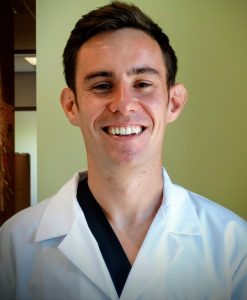 Edward Korot, MD
Stanford University – Byers Eye Institute
Stanford, CA
Dr. Dean Eliott summarized Dr. Cassie Ludwig's accomplishments at Massachusetts Eye & Ear. Dr. Eliott said,"Cassie has performed at an exemplary level throughout her fellowship at Mass Eye and Ear, and she will graduate in 2022. Among her many interests, she is most enthusiastic about improving retina care for high and pathologic myopes. Cassie will continue her work to determine better ways to image, treat and prevent high and pathologic myopia and its sequelae in her next role as a faculty member at Stanford."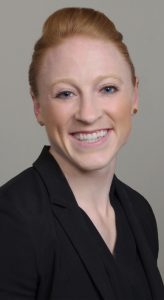 Cassie A. Ludwig, MD, MS
Massachusetts Eye & Ear Infirmary
Boston, MA
Dr. Prenner continued the virtual program by having last year's Ronald G. Michels award winners update the audience on where they are and what they are doing now. They include Drs. Frank Brodie, Elizabeth "Lizzie" Rossin and Matthew Starr. RetinaLink contacted each of their perspective mentors to obtain a comment about them.
FRANK BRODIE, MD MBA
Dr. Frank Brodie is now back home in San Francisco after completing his fellowship at the Duke Eye Center in Durham, NC. Dr. Brodie is working at both UCSF and the VA. He and his wife welcomed their second child in January. Dr. Brodie continues to do research and treat patients.
Dr. Lejla Vajzovic said, "Frank is highly creative, beyond innovative and motivated to develop new devices and methods to improve the care of his patients. While Frank has published extensively, he is also co-inventor on several patents and Founder of the Loving Eyes Foundation, which develops custom 3D printed glasses for children with craniofacial malformations (2019 cover of JAAPOS Journal). This type of passion for innovation is unique and admirable trait! And he continues to push the boundaries of innovation today while practicing at University of California in San Francisco."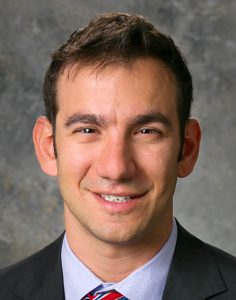 Frank L. Brodie, MD, MBA
UCSF/VA
San Francisco, CA
ELIZABETH "LIZZIE" ROSSIN, MD PhD
Dr. Lizzy Rossin joined the faculty at Massachusetts Eye & Ear after her fellowship at the Eye & Ear. Dr. Rossin is a K12 scholar which provides her the opportunity to be a clinician scientist. Dr. Rossin spends part of her week seeing patients and operating and also does her research in the lab. She is busy personally with her family.
Dr. Dean Eliott commented, "Lizzy Rossin excelled in all areas during her fellowship at Mass Eye and Ear, which she completed in 2021. She is currently a faculty member at Mass Eye and Ear, where she is studying the genetics of heritable eye disease. Lizzy is interested in genome-wide approaches to understanding more common diseases, such as central serous retinopathy, and she also studies methodologies around protein structure analysis to better understand the impact of more rare disease-causing mutations."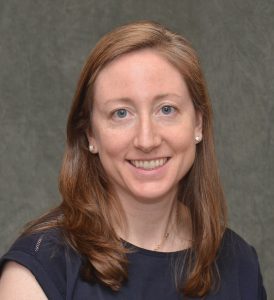 Elizabeth J. Rossin, MD, PhD
Massachusetts Eye & Ear Infirmary
Boston, MA
MATTHEW STARR, MD
Dr. Matthew Starr finished his fellowship at Wills Eye Institute in Philadelphia, PA and started at Mayo Clinic in Rochester, MN in July 2021. Dr. Starr is busy both clinically and surgically with vitreoretinal disorders with a focus on adults and doing research on surgical disease of the retina especially outcomes and techniques. Dr Starr's personal life is consumed by spending time with his family.
Dr. Carl Regillo said, "Matt was outstanding in fellowship in all respects, both clinically and academically.  He was a superb clinician and surgeon and was among the most productive retina fellows in research paper publications ever.  He has already made a major impact in the field, and I am certain he will be major force in retina as he starts his career at the Mayo clinic."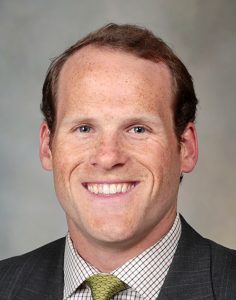 Matthew R. Starr, MD
Mayo Clinic
Rochester, MN
Dr. Richard Kaiser recognized the 2021 corporate sponsors, Platinum – Genentech, Diamond – Regeneron, Silver – IVERIC Bio and Novartis and two non-profit sponsors, Vit-Buckle Society and Alcon.
To find out more about the Ronald G. Michels Fellowship Foundation, please visit www.michelsfoundation.org,
or e-mail Karen Baranick, karen.baranick@michelsfoundation.org