There are bright stars and then, there are brilliant stars. Dr. Mina Millicent Chung was both the brightest and most brilliant in the retina world and to all who's lives she touched. She was thoughtful, kind and elegant in every manner of life. Whether Mina was holding a surgical-forceps during delicate retina surgery or playing a concerto on Steinway piano, there was always magic in her hands … a true virtuoso.
Her accomplishments were many: a retina colleague, doctor, surgeon, mentor, friend, wife, daughter, runner, skier and trained concert pianist. Dr. Chung was attending a retina meeting in Italy this past February where she was involved in a tragic accident which took her gifted life.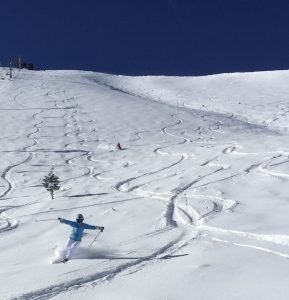 Adventurous Mina skiing back
bowls in Telluride, CO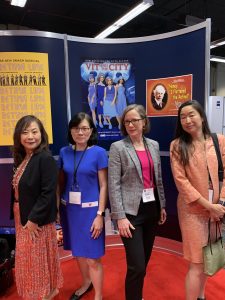 Retina colleagues (L to R) –
Drs. Judy E. Kim, Jennifer I. Lim,
Pauline T. Merrill & Mina M. Chung
Dr. Chung was an Associate Professor of Ophthalmology at the University of Rochester Medical Center (URMC) Flaum Eye Institute and a faculty member in the University's Center for Visual Science, an ophthalmologist and retina specialist who helped blind children to see again. She furthered the study of retinal disease, including macular degeneration. She passed away on February 13th after a fall while skiing in Cortina d'Ampezzo, Dolomites, Italy.
She was recruited to Rochester in 2002 and completed her fellowship in vitreoretinal surgery at the University of Iowa College of Medicine, following her residency and postdoctoral research at USC University Hospital in Los Angeles. She served as chief resident from 2000 to 2002 at USC. Dr. Chung was a 1994 graduate of the Yale University School of Medicine, where she received her undergraduate degree from Yale in 1990. As a clinician, Dr. Chung provided medical and surgical care to patients of all ages suffering from retinal diseases. These disease states included: age-related macular degeneration, diabetic eye disease, genetic retinal diseases, ocular trauma, uveitis and other diseases relating to the back of the eye. She was a key member of Flaum Eye Institute's pediatric artificial corneal transplant team and a specialist in pediatric retinal surgeries.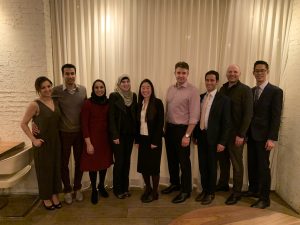 University of Rochester Medical Center Residents,
Fellows and Alumni at American Academy of
Ophthalmology in Chicago, IL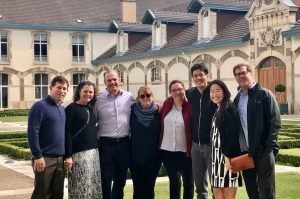 Traveling with dear friends.
Ruinart in Champagne, France

Dr. Chung is survived by her husband, Edward P. Lin, MD, MBA, an associate professor in the URMC Department of Imaging Sciences who specializes in neuroradiology. At the time of the accident Dr. Lin was with his beloved Mina in Italy. The couple lived in Canandaguia with their wonderful dog a white Samoyed, Nika, whom Dr. Chung often brought to the office.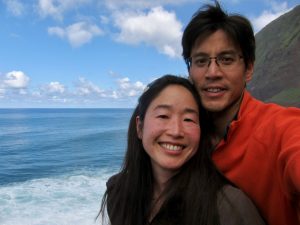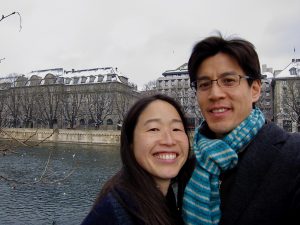 Mina and husband, Eddie, traveling the globe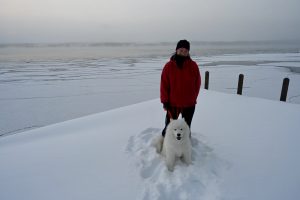 Mina & Nika enjoy exploring in the Winter months
The University of Rochester Medical Center recently created a framework for the Dr. Mina M. Chung Endowed Professorship. Click on the link to find out more and make a charitable contribution. Diane Quinlisk, Advancement Representative at Flaum Eye Institute can answer any endowment questions and can be reached via e-mail at diane.quinlisk@rochester.edu

https://www.urmc.rochester.edu/eye-institute/mina-chung.aspx
or http://www.chungmemorial.urmc.edu/
We will miss Mina's warmth, laugh and friendship. She will remain in our hearts forever.