Dr. John S. Pollack is Past President of the American Society of Retina Specialists and practices at Illinois Retina Associates in Chicago, IL. Illinois Retina Associates (IRA) was founded in 1976 and is one of the largest retina groups in the United States with 13 retina specialists and 12 locations in the greater Chicagoland area.
RetinaLink met with Dr. Pollack to discuss AREDS2-based supplements to gain a better understanding of what options are available, his preferences and how he counsels his patients with intermediate dry Age-Related Macular Degeneration (AMD). Dr. Pollack highlighted Focus Select®, sold by Focus Vision Supplements, as one of his preferred AREDS2-based formulations. Focus Vision Supplements (FVS) has now sold over 1 million bottles of their AREDS2-based supplement developed by retina specialists.
RetinaLink (RL): What are the benefits of carrying Focus Select AREDS2-based supplements for your intermediate dry AMD patients?
John S. Pollack, MD (JSP): My partners and I, at IRA, thought it made sense to provide a bona-fide AREDS2-based formulation to our patients with intermediate dry Age-Related Macular Degeneration (AMD). The Focus Select AREDS2-based formulation accurately reflects the composition of the vitamins used in the National Eye Institute's Age-Related Eye Disease Study (AREDS2), replacing beta-carotene with lutein and zeaxanthin and limiting zinc to the lowest dosage prove effective in the study.
When I counsel my patients, I explain that Focus Select is one brand of AREDS2-based supplement and ensure they know other branded options are available, too. My patients tend to prefer Focus Select due to the convenience. Shipments can be tailored to be delivered monthly which is advantageous, especially for my patients unable to drive. I suspect that another key reason my patients prefer Focus Select is that it may be cheaper than competitive brands at their local retailer.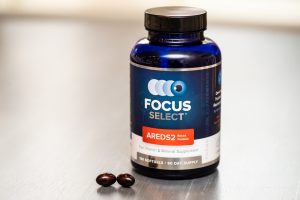 Focus Select – AREDS2 Based Formula
Image by Lesnick Photo – www.lesnickphoto.com
Originally, we had Focus Vision Supplements (FVS) products available for patients to purchase in our offices; however, we have migrated from the in-office sales model to an online model. Now, our front office staff assists interested patients by offering to help them to enroll http://focusvitamins.com as they are setting their next appointment.
RL: Please explain why IRA moved to the patient sign-up model. What are the benefits
and did it streamline your operations?
JSP: We decided to move to the online patient sign-up model to reduce the financial burden associated with credit card purchases and to free up space that was previously used to house inventory. In the end, we found that most patients also preferred this option due to the improved convenience for them, too.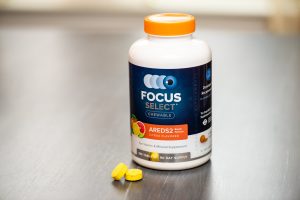 Focus Select Citrus Chewable – AREDS2 Based Formula
Image by Lesnick Photo – www.lesnickphoto.com
It improves our quality of care when we know that patient is signed up on subscription to Focus Select, also it eliminates the need to worry about buying and managing inventory. We simply sign up patients on their way out, using our code which gives them a discount.
RL: FVS offers a customized banner ad for Illinois Retina Associates website and also includes your practice in their "find a doctor" portal on the FVS website. Are these items beneficial to IRA?
JSP: I think both the banner ads as well as the inclusion of our practice in their "Find a Doctor" portal are beneficial to me and my colleagues. The banner ad was complimentary. It drives our site visitors straight to the FVS site to purchase supplements using our discount code. The ads were easy to create once we accessed our account on the FVS website.
Naturally, any opportunity for new patients to "Find a Doctor," whether it's me or one of my IRA colleagues, is always welcome. The FVS "Find a Doctor" portal has helped our search engine optimization (SEO) and has brought new patients into our practice. Definitely, a win-win all round.

RL: Please outline working with FVS associates.
JSP: Working with FVS has been a very positive and collaborative experience. Their associates have been a pleasure to work with as they have contributed relevant resource utilization for our offices and implementation has been flawless. They definitely have figured it out. Offering concierge service for both our practice and patients is an advantage for everyone.

RL: You have worked with FVS for several years. Can you provide any new developments for 2020?
JSP: In 2020, FVS is launching an app that streamlines the existing patient sign-up process. It will enable our front desk staff to help interested patients sign up for their AREDS-2 based supplements and other products, within minutes. It also provides flexibility, for example now we can enroll patients during a telemedicine consult or phone call. Anything that speeds up our front desk operations is a real positive, not to mention the options for revenue from patients who are unable to be physically present.
Dr. Pollack can be reached via e-mail – jpollack9@gmail.com
For more information, please contact Pete Ervin via e-mail – pervin@focusvitamins.com or 410.610.9914, or visit the Focus Vision Supplements website http://focusvitamins.com