RetinaLink is honored to feature Dr. Caroline R. Baumal in #ilooklikearetinasurgeon. Dr. Baumal is an Associate Professor at Tufts Medical Center in Boston, MA. Dr. Baumal trained at the University of Toronto Faculty of Medicine, New England Eye Center and Wills Eye Hospital.
RetinaLink asked Dr. Baumal why she chose retina, who her personal and professional mentors have been and what she finds most challenging professionally. See all her answers below.
RetinaLink (RL): Why did you choose Retina?
Caroline R. Baumal, MD (CRB): I have always been drawn to a challenge. I chose Ophthalmology and subsequently Retina subspecialty because the equipment, clinical examination and surgery were complicated and challenging. I am also very neat and organized which is an excellent quality for retina surgery.
RL: Who are your personal and professional mentors?
CRB: I am so fortunate to have learned from so many colleagues in our profession. I came to Boston as a medical retina and research fellow in 1995 then completed a surgical fellowship from 1996 to 1998 at Wills Eye Hospital. One of my main mentors who I continue to work with today is Jay Duker. All of my female colleagues are friends, mentors and collaborators and this is a very long list to name a few – Drs. Maria and Nina Berrocal, Carol Shields, Judy Kim, Sophie Bakri and Lejla Vajzovic. While I try to be a mentor to the vitreoretinal fellows that I work with at Tufts-New England Eye Center, they are continually challenging and teaching me new things so I consider them also to be my teachers.
RL: What is most challenging professionally?

CRB: Teaching vitreoretinal surgery to the new fellows in July.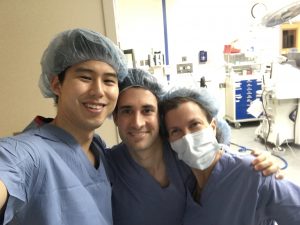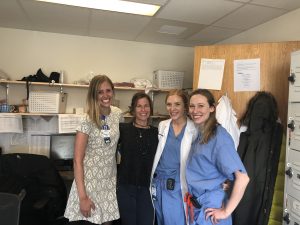 Dr. Caroline Baumal with her Fellows in the operating room and office. 
Dr. Caroline Baumal can be reached via e-mail at cbaumal@tuftsmedicalcenter.org