We all know that new products come and go; however, in the case of the NORLASE® LION™, Laser Indirect Ophthalmoscope (LIO), they have a winner. NORLASE is revolutionizing the laser space in several ways. The LION is reliable, portable, wireless, ultra-lightweight and an "All in One" integrated Laser Indirect Ophthalmoscope (LIO) where the laser is built into the headset. Therefore, the headset is the entire laser.
It always has been an honor to garner technological impressions from the retina community regarding revolutionary product developments. RetinaLink's recent interview with R.V. Paul Chan, MD, MSc, MBA, FACS uncovered how remarkable the NORLASE LION, Ballerup, Denmark, truly is. Dr. Chan who is Head, Department of Ophthalmology, The John H. Panton, MD Professor of Ophthalmology and Director, Pediatric Retina and Retinopathy of Prematurity Service at the Illinois Eye and Ear Infirmary, University of Chicago (UIC) College of Medicine, in Chicago, IL, has been in practice for 17 years.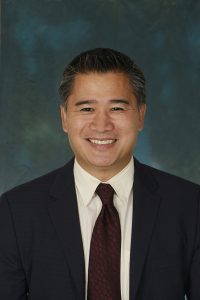 R.V. Paul CHAN, MD, MSc, MBA, FACS
Dr. Chan began our interview stating, "the big question for me was does this small, ultra-lightweight laser actually work? The LION is different than any other laser on the market. Laser reliability is a key feature for us. In the last three years, our NORLASE LION hasn't had a single issue and is still going strong. Honestly, NORLASE's commitment to their laser design has raised the bar on what we should be looking for in our laser."
Historically, LIO's have been seated on the retina specialist's head tethered to fiberoptics which have a high probability of breaking especially if stored incorrectly or mishandled. These tethered cables make it difficult to move easily around the patient. The LION's LIO is wireless which provides freedom to treat the patient without cumbersome tethered fiberoptics. Dr. Chan who treats both adult and pediatric patients remarked "the filter is clear which allows me to see better; therefore, I can treat my patients better and faster."
Dr. Chan trains Residents and Fellows and mentioned "we have a large number of Faculty on staff at UIC. Residents and Fellows are inserviced on how to use the LION in a seamless manner, the setup takes approximately two to three minutes. Interestingly, one of our Fellow's Father is a retina specialist in a busy practice in the midwest. Our Fellow liked the LION so much she told her Father about it and he purchased one for his practice. Reliability maintains a key cornerstone for me and our Faculty here at UIC. I don't have to worry the fibers will be damaged due to someone being in a rush and storing the laser and LIO away improperly."
Dr. Chan outlined the key differentials for the NORLASE LION:
The UIC eye service have been owners and users of the NORLASE LION laser for several years and no service has been required to date.  However, if the unit does require service, a guaranteed overnight loaner laser is shipped. The LION doesn't require a service call with a technician. Many competitive lasers do require a service call.
The LION has a integrated battery in the foot pedal which is optimal when I'm working with ORBIS, the Flying Eye Hospital, and other international partners to treat patients and educate doctors in resource limited settings and in Africa, Asia, Latin America and the Caribbean. There are clinics and hospitals who have frequent power interruptions or worse, limited electrical power. The LION's integrated battery ensures we can treat those patients who very often will travel long distances to receive treatment for their eye disease.
Dr. R.V. Paul Chan discusses the surgical 
protocol on ORBIS, Flying Eye Hospital
Photo: BUGBEE-KOLKATA-ORBIS
LION's lightweight LIO allows me to move freely around my pediatric patients, presenting with COATS and FEVR, as well as my adult PDR patients untethered. The LION always allows me to treat my wheelchair patients safely and ergonomically.
In closing, Dr. Chan said the NORLASE LION is "clearly very different from what we are used to… a remarkable step forward for laser technology. We love the laser and LIO and they haven't let us down yet."
NORLASE provides high quality, reliable, well designed and engineered cost-effective lasers with informative salespeople and responsive service. NORLASE where our best salespeople are our happy customers.
To find out more about the NORLASE LION visit norlase.com,  In the United States contact your NORLASE sales representative and outside the United States contact NORLASE to locate your local distributor.