Alcon Retina set a new precedent on Saturday, October 12th in San Francisco as the retina world gathered for the annual American Academy of Ophthalmology meeting in San Francisco, CA. Alcon's fifth Film Festival was a "red carpet star studded event" held at the Yerba Buena Center for the Arts which is a truly an iconic venue in San Francisco in close proximity to the Moscone Center.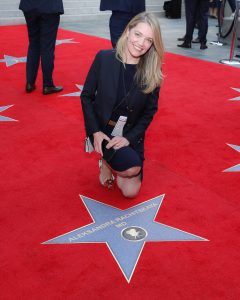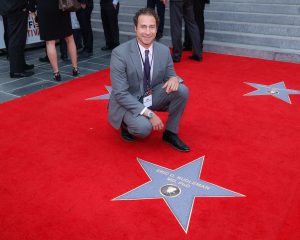 Aleksandra Rachitskaya, MD                Eric D. Nudleman, Md, PhD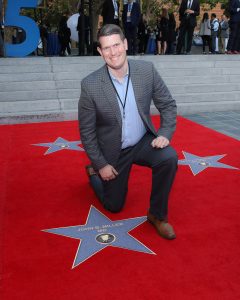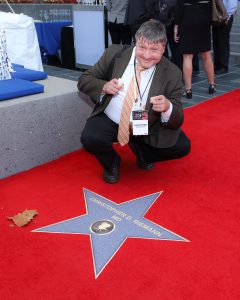 John B. Miller, MD                              Christopher D. Riemann, MD
Moderator Dr. Donald J. D'Amico was accompanied by Faculty Drs. Maria H. Berrocal, John W. Kitchens and Timothy G. Murray.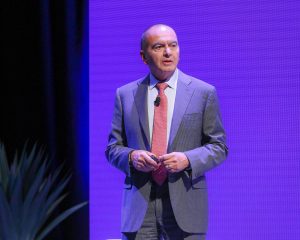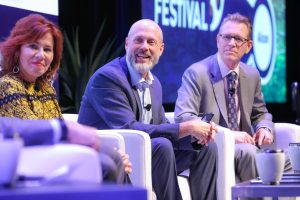 Dr. Donald J. D'Amico                                            Drs. Maria Berrocal, John Kitchens & Tim Murray
Moderator  
Both the Faculty and selected guest presenters shared their short surgical video, predominantly in 3D, with the audience and then, discussed it with Drs. D'Amico, Berrocal, Kitchens and Murray. Their surgical videos focused on surgical innovation, technology and in-depth impressions on technique. Dr. D'Amico said, "this event is unique because its surgeons talking to surgeons about surgery." The dialogue amongst the faculty is always interesting and at times witty. The content delivered throughout the program provided a new perspective on technology and surgical options depending on the disease state.
.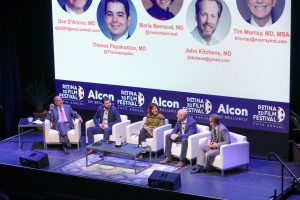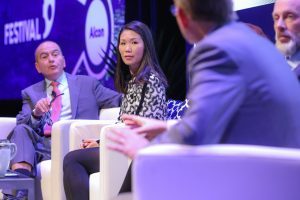 Dr. Thanos Papakostas converses with               Dr. Christina Weng answers a question from Dr. Murray
the Faculty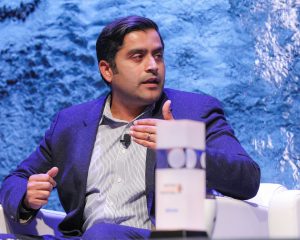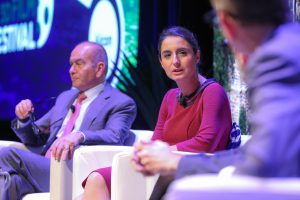 Dr. Arshad Khanani                                                 Dr. Lejla Vajzovic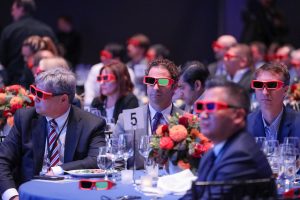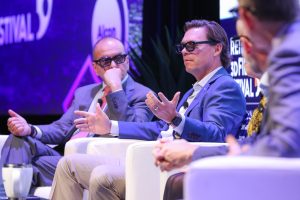 (L to R) Drs. Alan Franklin, Eric Nudleman       Dr. Charles Eifrig describes his patient with RRD
Steve Houston & Paul Chan watch Dr.                 from MH (3D)
Charles Eifrig's 3D video
Guest presenters included Drs. Mark R. Barakat, Caroline R. Baumal, Audina M. Berrocal, RV Paul Chan, Charles WG Eifrig, Alan J. Franklin, S. K. Steven Houston III, Arshad M. Khanani, John B. Miller, Eric D. Nudleman, Thanos Papakostas, Aleksandra Rachitskaya, Christopher D. Riemann, J. Niklas Ulrich, Lejla Vajzovic and Christina Y. Weng.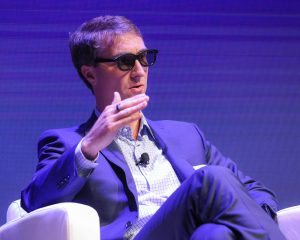 Dr. Steve Houston highlights his ILM Flap
in 3D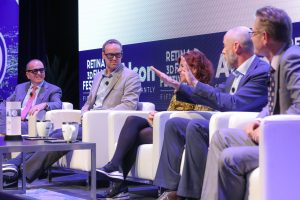 Dr. Niklas Ulrich outlines his
Retina Transplant technique in 3D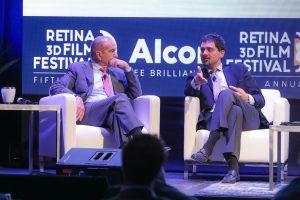 Dr. Mark Barakat describes his Sutured IOL
technique in 3D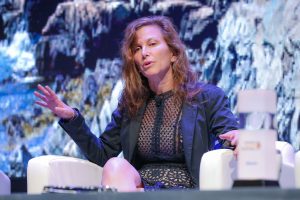 Caroline R. Baumal, MD highlights
her patient with MGD, RD and cataract
Last year, Alcon enabled the audience to vote on the "Best in Show Video". Dr. Yoshihiro Yonekawa was the 2018 recipient and Dr. Audina M. Berrocal's video received this year's best video honors. The winner's name is etched on Alcon Retina's "Best in Show" trophy. This trophy is similar to National Hockey League's (NHL) famed Stanley Cup which is awarded annually to the world champions of hockey.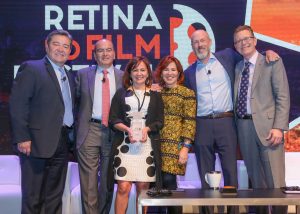 (L to R) Mike Lee (Alcon), Drs. Donald D'Amico
Audina Berrocal with Best in Show Video trophy,
Maria Berrocal, John Kitchens and Timothy Murray
Congratulations to Alcon Retina and their successful 2019 Film Festival. We'll look forward to Las Vegas in 2o2o.
Photo Credit: Kevin Caldwell Photography https://www.kevincaldwellphotography.com/Alcon-Film-Festival