Jeffrey L. Marx, MD has always been an early adopter of new technology. Dr. Marx became interested in ergonomics early in his career as he became aware of more senior ophthalmologists developing symptoms of musculoskeletal disorders. Working with ergonomic specialists, he soon recognized the increased risks of musculoskeletal disorders were apparent with prolonged leaning over the microscope when operating and looking through the slit lamp during clinic to examine patients. While other medical subspecialties such as dentistry have a robust literature on ergonomics and prevention of injury, the field of Ophthalmology did not recognize the inherent risks of our work.
A survey was conducted with  ophthalmologists in the Northeast and approximately 30% responded "they had experienced head, neck or back issues within the last 30 days." This data was the catalyst for the American Academy of Ophthalmology, AAO, to put together a task force to identify the ergonomic risk factors of musculoskeletal disorders in our everyday practice and educate membership. An ergonomic specialist's evaluation of practice in the clinic and operating room led to the development of a slide set and CME course on the AAO's One NetWork.
RetinaLink (RL): Please outline the work the ergonomics specialist conducted at Lahey Eye Clinic to determine certain risk factors.
Jeffrey Marx, MD (JM): An ergonomics specialist visited two practices, one was the Lahey Clinic to determine high risk activity pertaining to retina clinical examinations.
The information gathered by the ergonomics specialist provided data to develop a slide deck which is available on the AAO's One NetWork.  This slide deck provides guidance on proper posture and specific items to be mindful of in the operating room.
RL: Why did the AAO assign a Task Force and when do they meet?
JM: I worked with the American Academy of Ophthalmology Task Force to better understand the risks of musculoskeletal disorders and  best practices. They identified potential hazards, developed tools to educate the AAO membership on proper posture. The AAO Task Force was a short-term endeavor and it's important to add that industry was made aware but not involved in this initiative.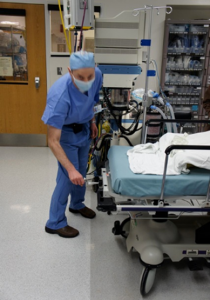 "What NOT to do – Leaning over the patient bed"
Jeffrey L. Marx
RL: Does the AAO's annual meeting have an ergonomics symposium?
JM: Yes. The annual meeting does include a symposium which started seven to eight years ago. The symposium's objective is two-fold, one, to educate its members and two to provide strategies to decrease risk. This year's symposium will be Monday, October 29, at 12:45 pm. Refer to the AAO course offering to find out more.

RL: Does the AAO have publications on ergonomics?
JM: Yes, there have been multiple publications over the last decade in EyeNet, http://www.aao.org/eyenet, other peer-reviewed and non peer-reviewed journals.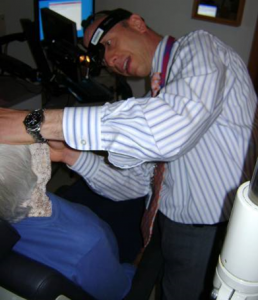 "WHAT TO AVOID at the slit lamp"
Jeffrey L. Marx, MD
RL: Please outline Lahey Eye Clinic's educational initiative with their residents and fellows to ensure they are aware of ergonomics and musculoskeletal issues?
JM: Residents and fellows emulate their mentors. Based upon findings of the AAO force, it is critical to properly position the patient and surgeon both in the operating room and clinic. Taking the time to position all members of the surgical team is important to providing the best patient outcome and increasing the longevity of one's career. I was struck by a dental study where they describe that the correct positioning of a patient did not take a long period of time – approximately five seconds. However, most dentists only took three seconds to position the patient and thereby were at greater risk of injury. It does not take long, but can have such a profound effect on your career.
Dr. Jeffrey Marx can be reached via e-mail – Jeffrey.l.marx@lahey.org