Oops we did it again… Congratulations to the Vit-Buckle Society (VBS) Board of Trustees and Executive Committee (Drs. Tom Albini, Nina Berrocal, Paul Chan, Royce Chen, Jorge Fortun, Mrinali Gupta, John Kitchens, Derek Kunimoto, Ross Lakhanpal, Geeta Lalwani, Charles Mango, Andrew Moshfeghi, Anton Orlin, Aleksandra Rachitskaya, Andrew Schimel, Jayanth Sridhar, Camila Ventura, Charles Wykoff and Yoshihiro Yonekawa) for an outstanding meeting again in 2019 ~ VBS7… OH BEHAVE.
 The Vit-Buckle Society (VBS) started as a small collegial dinner meeting ten years ago at the ASRS, American Society of Retina Specialists, and has grown to a two-day meeting with 225 retina specialists from around the US and Internationally.
What's the secret VBS formula?
Indeed, a rhetorical question. The meeting room is always full and each session is interactive with different members of VBS Leadership and Faculty guiding the discussion. VBS President Ross Lakhanpal, MD, said "The secret is collegiality and long-term relationships that have developed over the past twelve years. Ten of us (current BOT) started and nurtured this organization from its roots, fostering a program that emphasized interactivity and debate format over the standard word slide presentation. Now all societies do this, but we were the first. We have now grown into a larger organization, but the core principles remain the same. those of us who started VBS also were fellows when we started the organization, therefore we will always want fellows to be a large part of the organizational format."

Each year you wonder how things could be changed or improved and RetinaLink believes this year's meeting was the best yet. VBS' list of corporate sponsors is impressive and VBS ensures industry representatives interact with retina specialists in attendance.
The meeting highlights are many from Las Vegas. The panel discussions were the proper amount of time and covered both relevant and timely subject matter.
Dr. Carl D. Regillo (Director of the Retina Service, Wills Eye Hospital, Philadelphia, PA) was the Keynote Lecturer and discussed his retina journey and career with Dr. Jay Sridhar. "Interviewing Dr. Regillo was a dream come true. The interview exemplified what VBS does best by engaging a retina pioneer on a personal level to give the audience a behind the scenes look at what makes him tick. There can be no better learning experience for fellows and young attendings alike," remarked Dr. Sridhar.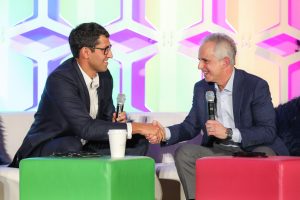 (L to R) Drs. Jayanth Sridhar and Carl Regillo 

Donald J. D'Amico, MD (Chairman of Ophthalmology, Weill Cornell, NY, NY) was recognized by VBS with their Lifetime Mentorship award. His former fellows, Drs. R.V. Paul Chan, Mrinali Gupta and Anton Orlin introduced Dr. D'Amico and highlighted his career.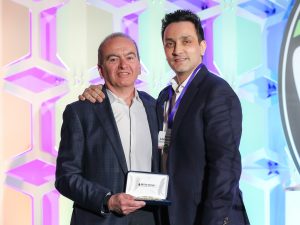 (L to R) Drs. Donald D'Amico and Ross Lakhanpal
AAO President Dr. George A. Williams and AAO President-Elect Dr. Cynthia A. Bradford were in attendance and were panelists outlining various AAO issues and specifically, issues concerning women in retina and Ophthalmology.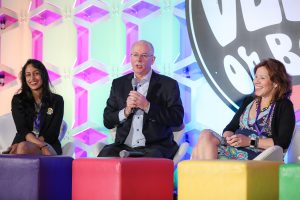 (L to R) Drs. Ashvini Reddy, George Williams
and Maria Berrocal
Live Surgery is always an impressive undertaking. The coordination and planning are time consuming. Drs. Jorge Fortun, Steve Charles, Geeta Lalwani and Mitul Mehta moderated while Drs. Joseph M. Coney, Charles WG Eifrig, Sunir J. Garg, Colin A. McCannel and Rahul K. Reddy operated and provided their surgical impressions of ALCON, Bausch + Lomb and Dutch Ophthalmic surgical platforms.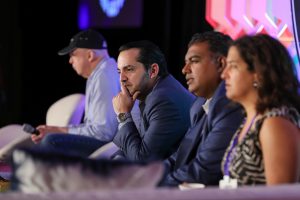 (L to R) Drs. Steve Charles, Jorge Fortun, Mitul Mehta
and Geeta Lalwani moderate VBS Live Surgery 
The VBS Leadership hosted the annual Women's Breakfast. #ilooklikearetinasurgeon celebrated its first birthday. Drs. Nina Berrocal, Geeta Lalwani, Aleksandra Rachitskaya, Ross Lakhanpal and Yoshi Yonekawa welcomed female retina specialists and industry to this event while guests chatted over breakfast. Dr. Berrocal commented, "VBS has the most women on the podium than any other meeting and VBS has a real commitment to women: we want to normalize seeing women on the podium."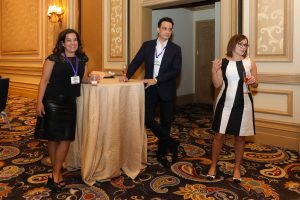 (L to R) Drs. Geeta Lalwani, Ross Lakhanpal and Nina Berrocal 
Emmett T. Cunningham, Jr., MD, PhD moderated a panel on Surgical Innovations with Drs. Nina Berrocal and Dean Eliott and included industry leaders, Paul Hallen (ALCON) and Rob Niemietz (Bausch + Lomb).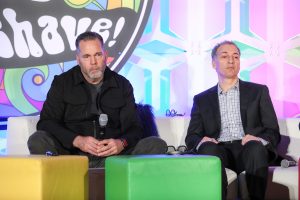 (L to R) Paul Hallen and Dr. Dean Eliott
The last presentation was Dr. Carmen A. Puliafito who highlighted, What Every Physician Needs to Know in 2019.
Following Dr. Puliafito's talk, Drs. Nina Berrocal, David Eichenbaum and Dante Pieramici discussed scenarios and ethical dilemmas relevant to Healthcare Providers.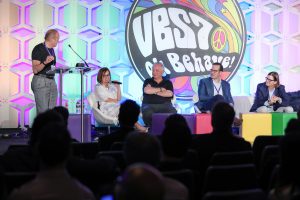 (L to R) Dr. Donald J. D'Amico moderates panel discussion
with Drs. Nina Berrocal, Carmen Puliafito, David Eichenbaum
and Dante Pieramici
Save the Date for VBS8 in Miami, Florida at the Fountainebleau Hotel on March 26 – 28, 2020.  The Keynote and Mentor Awards are set for 2020. They include:
Keynote Award 2020: Hugo Quiroz-Mercado, MD
Mentor Award 2020: George A. Williams, MD
 To find out more about VBS, http://www.vitbucklesociety.org
 Photo Credit: Kevin Caldwell Photography http://www.kevincaldwellphotography.com