Dr. Miguel Busquets makes a difference each day as he treats his retina patients at AIO, Associates in Ophthalmology, in Pittsburgh, PA. AIO is a very busy practice with nine locations and 17 eye doctors. Dr. Busquets is a Puerto Rico native, who is the Director of the Division of Clinical Trials and Research, and has practiced at AIO for 20 years. http://aiovision.com
After Hurricanes Irma and Maria, Dr. Busquets spoke to his family members and former retina fellows, Drs. Alberto Guardiola and Gabriel Benitez, in Puerto Rico and they confirmed patients' retina surgeries were rescheduled indefinitely since there was no electricity, water and very limited transportation available on the island. He decided to contact Rosanna Guernica, a student at Carnegie Mellon University (CMU) engaged in humanitarian airlift relief efforts for the island. Dr. Busquets and Ms. Guernica agreed to coordinate a process to identify qualified retinal patients in need of treatment and transport them to Pittsburgh for surgery at AIO.
Puerto Rico's main television station, WAPA, contacted Dr. Busquets and asked him to come to the television station for an interview. He explained he was located in Pittsburgh, PA; however, his cousin, who is a Plastic Surgeon, might be available for an interview. His cousin was in agreement to be interviewed after a quick primer in retina disease. At the end of the WAPA interview, Dr. Busquets mobile number was provided for retina patients whose surgery had been postponed due to Hurricanes Irma and Maria. Immediately, Dr. Busquets' mobile phone started ringing and by the end of that day, he had screened over two hundred patients to discuss their overall health, retina disease and see if they were surgical candidates. There were two patients that met the criteria to be transported to AIO for surgery.
Now, everything was in motion. Ms. Guernica confirmed her foundation would provide transportation from San Juan, Puerto Rico, to Fort Lauderdale, FL.  Once these two patients and their spouses were in Fort Lauderdale, then, AIO would have to provide airline transportation from Fort Lauderdale to Pittsburgh as well as provide hotel accommodations, ground transportation and meals. The patients and their spouses were exhausted from their long journey; however, grateful for comfortable hotel accommodations with running water, electricity and normal creature comforts.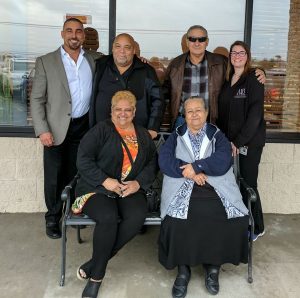 Dr. Miguel Busquets (Top L), his retina patients
& their wives from Puerto Rico
The retina patients were legally blind gentlemen in their 60's, who presented with 20/400 vision due to advanced proliferative diabetic retinopathy. Surgery was performed for vitreous hemorrhages and tractional retinal detachments. The surgical procedures were a success and their post-op VA improved to 20/40 and 20/80, respectively. Fellow eyes were also treated in the office with laser photocoagulation and intravitreal anti-VEGF injections.
Life is full of surprises and in this case, good fortune. Lisa M. Cibik, MD, FACS, Director of Cataract Services, at AIO, performed cataract surgery on the retina patients' spouses. She used the latest technology, including femtosecond laser, cataract surgical platform and advanced IOL's. Both spouses' surgical outcomes were successful. Because they were diabetic, they were also treated with laser photocoagulation and intravitreal anti-VEGF injections to stabilize their diabetic retinopathy. The ability to treat bilateral urgent, vision-threatening diabetic retinopathy in all four patients was extremely satisfying.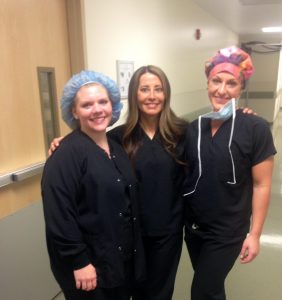 Dr. Lisa M. Cibik (M) and AIO Nurses
Interestingly enough, one of the patients, Mr. Angel Romero, was coincidentally the second cousin of Puerto Rican and Pittsburgh baseball legend, Roberto Clemente. It was extremely moving for him to have his vision restored in the city that held such special meaning to his family.
In this humanitarian effort, everyone was a winner… The retina patients and their spouses will have a better quality of life. Vision is key to longevity. Studies show patients may live longer since they can see. Drs. Busquets and Cibik, AIO staff, Ms. Guernica and everyone involved with these patients "made a difference".
Dr. Miguel Busquets can be reached via e-mail at mbusquets@aiovision.com