There's one word to describe Dr. Maria H. Berrocal, MD… Delightful. I had the pleasure to meet Dr. Berrocal many years ago and we've had numerous conversations at various meetings around the globe. She even helped me purchase a lovely rug in a Marrakesh souk during a break from the EVRS Congress. However, in our many discussions I hadn't inquired about her training, family and perspective on retina. I have to admit I learned several new and interesting things about Dr. Berrocal that I would like to share with you.
RetinaLink (RL): First and foremost, please outline your training and explain why you decided to become a retina specialist?
Maria H. Berrocal, MD (MHB): I completed my undergraduate degree at Bryn Mawr outside of Philadelphia, PA. Then, attended medical school at the University of Illinois and decided to do Ophthalmology in Puerto Rico. Later, I did my Retina fellowship at Cornell in New York at New York Hospital. I was the Gass fellow at Bascom Palmer Eye Institute, BPEI, in Miami, FL, in 1993.
Interestingly enough, my Father, Dr. José Berrocal was Dr. Edward Norton's first Retina fellow at BPEI and trained with Dr. Charles Schepens, who established the first retina service and retina fellowship at Massachusetts Eye & Ear Infirmary, in Boston, MA, in 1949.
RL: Your Father, José Berrocal, MD, was a retina specialist. Was he the driving force and determining factor to study medicine and more importantly your decision to specialize in retina?
MHB: I spent a lot of time with my Dad during the summer months in his small office located in the hospital where the Nuns lived. I would assist him as a Technician. We, my older brother and younger sister, Nina, traveled with my Dad to meetings and he would practice his scientific presentations with a slide projector in our living room. He had a small mask and we would practice surgery on animal eyes so yes, my Father certainly introduced me to ophthalmology and retina.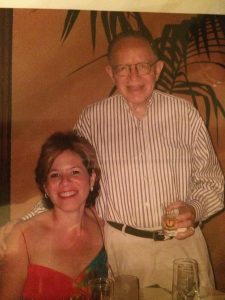 Maria H. Berrocal, MD & José Berrocal, MD
I studied Political Science at Bryn Mawr and decided politics were not for me. I knew I wanted to "directly" help people so I applied to medical school. My Father never "told me" to go to medical school. I originally thought I wanted to be a Psychiatrist. Psychiatry was definitely not for me and then, during my rotations, I thought Dermatology would be the best fit for me until I encountered a patient who was very vain.
I had a great mentor at the University of Illinois during my Ophthalmology rotation, who was both instrumental and influential, in my decision to be an Ophthalmologist. I'm a very manual person meaning I like to knit and embroider. My other interests include painting and designing jewelry. These interests defined my surgical skills and quite frankly, my desire to become a surgeon.

The field of Retina is always interesting, challenging and has the most advances. At one time, refractive surgery and Lasik were cutting edge and now, it has leveled out.
RL: Who were your mentors and how were they impactful in your training and career?
MHB: I was training in New York during what I consider the "Innovations of the 90's" with Drs. Stanley Chang and Harvey Lincoff. Dr. Chang was working on perfluorocarbon liquid, PERFLUORON®, for Giant Retinal Tears and Proliferative Vitreoretinopathy as well as perfluorocarbon gases during this time. The experience of being on the forefront of these innovations with Drs. Chang and Lincoff was invaluable to me. We would operate until 2 or 3 o'clock in the morning. Dr. Chang was a meticulous surgeon, a true perfectionist in the OR. My training with him molded me. Not only was he a perfectionist when operating but also with scientific podium presentations.
The other life lesson Dr. Chang instilled in me was treating all patients the same whether they had a good or poor prognosis. His loyalty was to his patients first. Some patients have good luck in life and others are unfortunate. Medicine allows me to help my patients each and every day.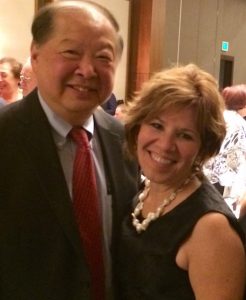 Stanley Chang, MD & Maria H. Berrocal, MD
The second influencer in my career was J. Donald M. Gass, MD, who is remembered for his research and understanding of specific retinal diseases and their pathology, like tumors and parasites. Dr. Gass had "keen" observational skills and remembered photos and fluoresceins of "something similar". His recall was uncanny. One of my favorite stories about Dr. Gass, which is very funny, is that he had not operated in years, as he was dedicated to medical retina; however, one of his patient's who he had done surgery on decades prior came in with a detachment on the fellow eye, and requested Dr. Gass do her buckle. Since the patient insisted, he performed her buckle successfully in under half an hour. Truly amazing…
I'm forever grateful to both Drs. Chang and Gass. My early retina training and knowledge would be very different without training with them. After leaving New York, I went to Puerto Rico to practice with my Father, Dr. José Berrocal. For 15 years, we consulted and collaborated on strange retina cases until he retired. Today, my practice continues to serve a relatively underprivileged population. Some of my patients are poor or indigent with no insurance. Many patients are diabetics, who have eye disease, exasperated by little or no medical care. My work is rewarding and they pay me the way they can… sometimes they bring me cookies, avocados or just say thank you. Every day is indeed most rewarding.
RL: Your Sister, Dr. Audina (Nina) Berrocal, is a retina specialist in Miami. How often do you talk to her and do you ever discuss retina surgery, patients, interesting cases?
MHB: Great question. I speak to Nina one or two times every day. Our discussions range from retina to interesting patient cases to current events. Our discussions vary but, one part of our lives is always the same, family is paramount to us. It's also a Latin thing. Our parents always taught us to love each other because siblings are most similar to ourselves.
RL: What the similarities between you and Nina? Differences?
MHB: Our similarities include that we are perfectionists, motivated, competitive (I play chess), value friendships and our family. Our brother, who passed away, was perfect. He shaped our family. Nina and I are both inherently generous people.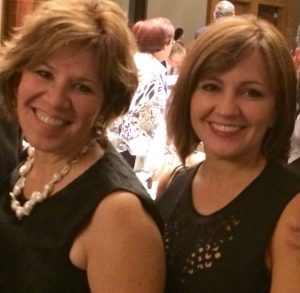 Maria H. Berrocal, MD & Audina Berrocal, MD
Our differences are interesting, too. Nina focuses on pediatric retina in Miami and I work primarily with elderly patients in my retina practice. Nina doesn't cook and I love to cook. I enjoy manual tactile projects like knitting and embroidery as I mentioned earlier. Nina is an extrovert and more impulsive since she is the third child. I'm more introverted and have possibly more patience and equanimity.

RL: In your opinion, what makes a good surgeon? Speaker? I know you've mentioned the 10,000-hour rule to become an expert in your field/sport/etc.
MHB: A good surgeon must be meticulous as well as a perfectionist. There's no room for sloppiness. Attention to detail is key. Remaining level headed with equanimity and calm must prevail. Aggressiveness, when things go wrong, meaning you must act quickly… in a sense be "fearless" is a principle you must embrace.
You must also be devoted to your patient's follow-up care. Self-confidence without hubris is critical; a person can't be cocky and self-centered.
Yes, I've outlined the 10,000 hour rule about practicing to master your skill. The person who puts the most effort forward will be successful. However, you have to "love" what you do.
There are three key takeaways:
Innate talent.
Practice – it takes three to four years post-Fellowship to really feel confident.
Always learning.What works now may not work later.  Always be open to change. You can't be rigid or fear change. There's a normal progression and evolution in technology. It's important to evaluate and try it, for example, 20-gauge >  23-gauge > 25-gauge > 27-gauge.
Finally, the busier you are the better you will become.
RL: What is most exciting in retina today? Surgical advances; evolution of new anti-VEGF or delivery devices for patients.
MHB: The most exciting are the new drugs. Who would have thought 15 years ago that there would be an intravitreal injection for wet AMD? The future looks promising and even mind blowing, retina pharmaceuticals that treat disease, prevent disease and may be delivered via a sustained delivery device. On the surgical frontier, a more minimalist surgical procedure, like a less invasive procedures with OCT possibilities.
RL: Where's your favorite to travel for a meeting? Vacation?
MHB: I love to travel and explore. When I was a child, I read the World Book Encyclopedia whenever I was bored as I did not like television.
My favorite meeting cities include San Francisco and Chicago. When ASRS was in New York in 2009, I took my daughter and said we are going to see the Johannes Vermeer exhibit at the Met. My daughter really wanted to go shopping. I told her, "you can always go shopping, but seeing the Vermeers with me will be something you will remember forever." I really love to experience amazing cities with my family.
My ideal vacation includes vibrant cities with good restaurants, theater and museums, Paris, London, New York, Venice and Barcelona. I have several countries on my bucket list, Africa and Vietnam. I'm an avid reader and love different cultures and new places.
Dr. Maria H. Berrocal will be interviewed by Dr. John Kitchens at the 2017 Vit-Buckle Society meeting in April in Las Vegas.
Dr. Berrocal can be reached via e-mail at mariahberrocal@hotmail.com