Llewelyn J. Rao, MD, Retina Associates of Cleveland and President of the Cleveland Ophthalmological Society was one of four retina surgeons who participated in the live surgery broadcast at VBS, Vit-Buckle Society, in Miami, FL. Live surgery is awe inspiring since everyone in the meeting room is observing your every surgical maneuver. Moderator Timothy G. Murray, MD, MBA and Live Surgery panelists, Jorge A. Fortun, MD and Michael A. Klufas, MD followed the surgical progress of all four Live Surgery surgeons, Drs. Llew Rao, Justin Townsend, Steve Charles and Thierry Verstraeten.
"Tim, Jorge and Mike asked questions throughout both surgical cases about my technique and experience with Dutch Ophthalmic's EVA™ surgical system. Live surgery was fun and good experience," Dr. Rao said and mentioned, "adding a microphone under your surgical mask and an earpiece certainly adds another dimension to your surgery day. You know the audience is full of your peers as opposed to justyour usual surgical team or operating room visitors-so your heart beats a little faster."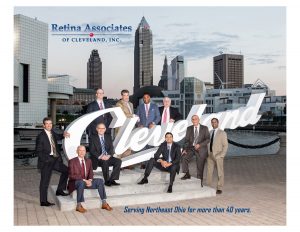 Retina Associates of Cleveland
RetinaLink (RL): How do you utilize EVA in your ASC/Hospital?
Llewelyn J. Rao, MD (LJR): I operate at Cleveland Eye & Laser. Our group decided it would be best and easiest to have one surgical platform.We have two main rooms for retinal surgery. One key decision for our group was how to manage the disposable inventory, specifically surgical packs and what gauge to stock. I utilize a 25-gauge platform approximately 99% of the time. Dutch Ophthalmic's 25-gauge valved cannulas are exceptional. I may decide I need a 27-gauge vitrectomy cutter for a detachment in a diabetic patient, or open a 20-gauge sclerotomy for the fragmatome.
RL: Why do you prefer EVA and what is your favorite feature on this surgical platform?
LJR: I've worked on many vitreoretinal surgical platforms, EVA, Bausch + Lomb's STELLARIS™ and ALCON's CONSTELLATION® Vision System. EVA is the preferred platform at our ASC, Cleveland Eye & Laser. The Cleveland VA has a CONSTELLATION and a STELLARIS, so I use thosewhen I operate there.
I like the familiarity with EVA. EVA's flow control is exceptional since I know the amount of fluid "in and out" of the eye,which is critical in a patient with a detached retina. Shaving the vitreous base and superior control of removing the vitreous is impressive, too.

RL: How does EVA compare to competitive platforms, Bausch + Lomb's STELLARIS™ and ALCON's CONSTELLATION®?
LJR: Although both competitive platforms have some similarfeature sets like EVA, I believe I'm faster with Dutch Ophthalmic EVA platform. The extra pre-programmed modes in the EVA make seamless transitions very easy to accomplish within a surgical case. In my hands, speed equates to efficiency. Efficiency, in my opinion, improves safety. No one prefers to remain in the patient's eye longer than required.
In my opinion, a "superior vitrectomy" can be performed and overall, EVA is very efficient.
RL: Describe and outline the level of service/support you receive from Dutch Ophthalmic USA.
LJR: I have nothing but compliments for our sales representative out of Pittsburgh. If I have a question or concern, he answers immediately and is always quick to be in the operating room, normally in less than 24 hours. Additionally, Dutch Ophthalmic continues to improve their instrumentation.
Overall, I believe Dutch Ophthalmic's EVA is an outstanding surgical platform for our high volume Ambulatory Surgery Center and EVA can tackle a variety of vitreoretinal pathology. It helps us do better, safer, and more efficient surgical procedures.
Again, Live Surgery at VBS was truly a great experience and I have a better appreciation of live surgery now.
Dr. Llew Rao can be reached via e-mail – llewrao@gmail.com
Surgical Footage provided by BMC & Avenue Live.