Charles WG Eifrig, MD, FACS, Retina Associates of Orange County in Laguna Hills, Santa Ana and Newport Beach, California, was one of four surgeons to participate in Vit-Buckle Society's (VBS) Live Surgery in April. Dr. Eifrig operated on two patients and utilized ALCON's CONSTELLATION® Vision System and NGENUITY® 3D Visualization System for both cases. Dr. Eifrig operates primarily at three ambulatory surgery centers in Orange County (LaVeta, Barranca and Surgical Center of Saddleback) in addition to two hospitals—St. Joseph Hospital and Orange County Global Medical Center.
VBS Live Surgery moderators included Drs. Steve Charles, Jorge Fortun, Geeta Lalwani and Mitul Mehta. They asked Dr. Eifrig about NGENUITY and if he used it for all his surgical cases. Dr. Eifrig said, "Yes, I do use NGENUITY for all of my cases at the Surgical Center of Saddleback and do miss it when operating at other centers and/or hospitals."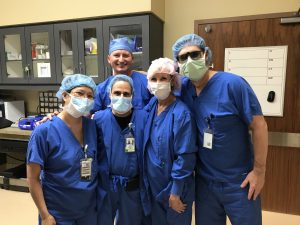 Dr. Charles Eifrig (R) and his surgical team
RetinaLink is privileged to feature both of Dr. Eifrig's VBS surgical patients.
Patient 1 – Video can be accessed via RetinaLink's Surgical Videos:
64 yo female with chronic and large macular hole left eye
Pre-op VA: 20/600
Post-op VA: 20/600 with bad cataract preventing adequate visualization. Macular hole is closed but needs cataract surgery to determine visual potential.
This video is on RetinaLink's Surgical Videos.
Patient 2 – Featured Video – click on arrow:
63 yo diabetic male with chronic DME in left eye requiring chronic anti-VEGF therapy.
Pre-Op: Decided to inject TRIESENCE®(triamcinolone acetonide) prior to vitrectomy and membrane peel.
Pre-Op VA: 20/200
Surgical Plan: Induced PVD and peeled ERM
Central Subfield thickness (CST) on OCT was 712 microns preoperatively and improved to 355 microns after surgery.
Patient also not requiring any anti-VEGF injections because currently no macular edema.
No tamponade was used; thus, no positioning.
Post-Op VA: Improved to 20/50
Dr. Eifrig can be reached via e-mail – ceifrig@yahoo.com