Alan J. Franklin, MD, PhD located in Mobile, Alabama had one of the Top 10 most viewed surgical videos in 2018.
Dr. Franklin shares his latest video which includes voiceover. His 64-year-old male patient has massive macular edema, vitreous traction and a fair amount of ischemia secondary to central retinal vein occlusion. The initial anti-VEGF injection didn't budge the edema. Dr. Franklin's normal regimen is to hit these patients hard and aggressively with both anti-VEGF, steroids and vitrectomy surgery to release the traction.
Pre-op VA: CF
Pre-op OCT: Central thickness ~ almost 900 microns, difficult to measure
Post-op VA: 20/800
Post-op OCT: Central thickness ~ 354 microns
In Dr. Franklin's surgical video, he demonstrates the power of Alcon's NGENUITY® 3D Visualization System and utilization of different digital color filters.
"NGENUITY's blood suppression filter allowed me to see better through the vitreous hemorrhage and the posterior hyaloid is actually enhanced, while the vitreous blood is suppressed. The beveled 10k vitrectomy cutter provided the opportunity to access a precise plane and slowly, peel away the posterior hyaloid," according to Dr. Franklin.
I'm working towards quantifying that I see better through vitreous blood with the blood suppression filter. I currently export retinal images looking through the vitreous blood either with the standard filter or blood suppression filter. Then, I convert the signal to gray scale. A line is made to measure contrast across the vessels. I've observed there's indeed more contrast through vitreous blood and across retinal landmarks such as vessels or laser scars when using NGENUITY's blood suppression filter compared to the standard filter.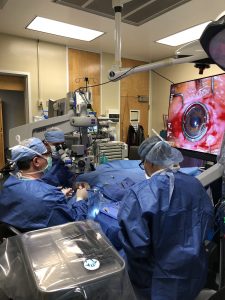 Dr. Franklin operating with NGENUITY
One unexpected twist was when looking at the superior temporal arcade, there was a color shift. I could visualize pale retina in the superior arcade and darker retina, peripherally, indicated more ischemia by its appearance and where it was located in the retina. We compared these images to the wide field FA and that indeed was the case. The blood suppression filter actually allowed us to see ischemic retina which allowed us to tailor our laser.
Dr. Franklin said, "I used a curved 25-gauge ALCON endolaser probe. I did not change my standard laser settings. I did alter the pattern of laser so that I only lasered the ischemic appearing retina rather than a blanket pan retinal laser."
It was difficult to peel the ILM because it was so swollen, but with the high resolution and enhanced stereopsis of NGENUITY allowed me to see to complete my ILM peel.
Dr. Franklin summarized by saying, "we know NGENUITY has better stereopsis, better depth of field and better contrast through vitreous hemorrhage by utilizing the digital filters. In this particular patient, the digital filters actually allowed us to visualize ischemic retina in vivo which was I really found fascinating."
Dr. Alan Franklin can be reached via e-mail – afranklin84@gmail.com