Developing any new program is an ambitious objective. The planning process takes months of meetings, conference calls and discussions to determine didactic and surgical rotations agendas. Then, invitations to faculty and fellows are extended, travel arrangements are finalized and finally, day of coordination is integral to create a seamless experience. The actions listed are just a representative sample of what was required to successfully implement Alcon's Retina Fellows Institute.

Who was in attendance?
40 Fellows from 22 retina fellowship programs and the faculty to fellow ratio was 2:1. Unprecedented.
On Saturday, November 17, Paul Hallen, Global Director of Retina and Glaucoma, welcomed the Faculty and Fellows to Alcon's inaugural Retina Fellows Institute at their most impressive Alcon Experience Center in Fort Worth, Texas. Alcon's initiative to develop a new comprehensive retina fellows program was led by Program Director, Yannek I. Leiderman, MD, PhD, University of Illinois, Chicago, IL and Kevin Bulgarelli, Alcon's Senior Manager, Surgical Retina Market Development for the US.
Dr. Leiderman welcomed everyone and said, "The Retina Fellows Institute was conceived out of a desire to expand our surgical teaching paradigm beyond didactic instruction and supervised surgery. The Retina Fellows Institute is a first-in-class surgical simulation laboratory course using high-fidelity models of commonly encountered surgical pathology allowing for hands-on skills transfer. Developing surgical models presented a unique challenge requiring the design of synthetic surgical pathology adapted to existing simulation technology. Bringing together world-class surgical teachers with fellows in vitreoretinal surgery from around the country in a state-of-the-art surgical simulation facility equipped with a full array of surgical instrumentation was a remarkable accomplishment."
The first morning session was didactic. Dr. Steve Charles highlighted surgical fluidics and told the fellows to be "maniacal about your infusion." Next, Donald J. D'Amico, MD walked to a flip chart and provided his "chalk talk" about the importance of draping, time out (correct patient and eye), listening to your body and recognizing key habits including food, coffee and cortisol. Dr. D'Amico also outlined the importance of understanding the disease state, instrumentation, microscope, and emphasized, are you confident in recommending surgery for this patient? His key surgical pearls included the following words "perfect focus" and most of all, remember "to relax and slow down."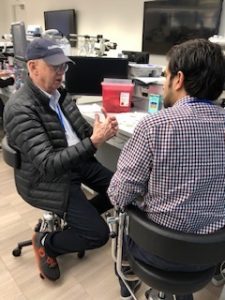 Dr. Steve Charles
discussing fluidics
Dr. Maria H. Berrocal showed her surgical videos demonstrating 27-gauge in her TRD patients. When asked about her impressions of Alcon's inaugural retina fellows program, she said, "The most comprehensive, innovative fellows hands-on program with one-on one training with experts of a multitude of different retinal pathologies." She added, "Everything was covered, from 27-g vitrectomy, ILM peeling, tractional detachments, sutured IOLs and 3D vitrectomy. Fellows were able to perform all these techniques with expert guidance in model eyes."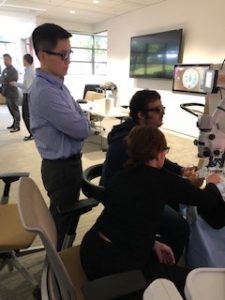 Dr. Maria H. Berrocal and Fellows
Faculty included Drs. Audina M. Berrocal, Maria H. Berrocal, Steve Charles, Donald J. D'Amico, Dean Eliott, Ronald C. Gentile, Mrinali P. Gupta, Omesh P. Gupta, Paul Hahn, Geeta A. Lalwani, Yannek I. Leiderman, Andrew A. Moshfeghi, Timothy G. Murray, Eric D. Nudleman, Jay Sridhar, Aristomenis Thanos, Lelja Vajzovic, Christina Y. Weng, Jeremy D. Wolfe and Yoshihiro Yonekawa. They worked with the retina fellows in an OR setting and at individual wet lab workstations.
First year vitreoretinal fellow at UIC, Nicole K. Scripsema, MD, said, "The Alcon Retina Fellows Institute was an excellent experience as it offered the widest variety of surgical simulation topics and the lowest faculty to fellow ratio of any other course I have attended. Learning numerous surgical approaches and techniques from the current leaders in our field was an invaluable experience. With Alcon hosting the course, over half of the simulation stations were equipped with the NGENUITY® 3D visualization system, offering a unique opportunity to learn on the newest surgical technology available."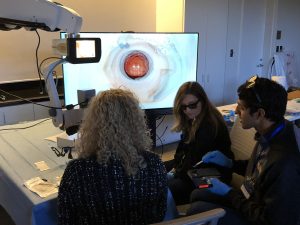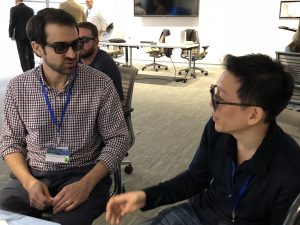 Dr. Jay Sridhar with Fellows                 Dr. Paul Hahn discussing surgical techniques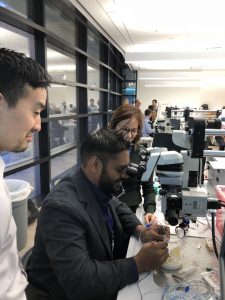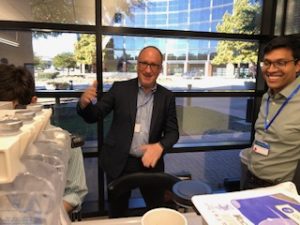 Dr. Nina Berrocal                  Dr. Andrew Moshfeghi takes a break
instructs fellows in the
wet lab

Dr. Leiderman summarized the inaugural program by saying, "Simply put, a project of this scope and scale could not have been possible without the remarkable commitment to education and training by Alcon. It was a privilege to be part of a team with such wide-ranging expertise. At the heart of this collaborative effort was a core of truly gifted surgical teachers and a visionary leader in the ophthalmic surgical industry. Ultimately we had one shared goal – to further the development of the next generation of vitreoretinal surgeons." 
Undoubtedly, these fellows are the future of retina and Alcon made a remarkable investment. Alcon's Kevin Bulgarelli provided his impressions by stating, "I am humbled at the overwhelmingly positive responses from both faculty and fellows regarding the Alcon Retina Fellows Institute! Alcon's objective was to partner with the surgical retina community in the training efforts of their fellows.
I am so grateful for this partnership and for the vision of Dr. Yannek Leiderman. It was the best professional experience of my life, and it is truly an honor to serve future surgeons who will certainly impact future patients."
Congratulations to Alcon for a remarkable program. Stay tuned for details for Alcon's Retina Fellows Institute in 2019. http://alcon.com