Over the past four years, RetinaLink has focused on many different aspects of retina. Today's post is different; yet, impactful and thought provoking.
Max Moore recently experienced a profound decrease in vision which was the impetus for VIP Angling (Fishing). He said to himself, "What if I lost my vision?" His question sparked the idea to organize a fishing tournament for visually impaired children. You'll witness in the video that Max questions why visually impaired people are protected from the outdoors. Not only interesting but, he's accurate in his assessment.
Max has loved to fish since he was three-years-old and thought it would be nice to share the great outdoors and teach fishing to blind children. He discussed his idea with his parents, Heather and Christopher Moore. They agreed as a family, supported Max's idea and put everything in motion. Max went one step further and contacted his friend, Layla, who is blind. They went fishing and their conversation captured on the video is remarkable. You hear Max telling Layla to "reel it in and that's a good fish Layla."
RetinaLink contacted Layla and her Father after Saturday's VIP Angling to get their impressions. Layla said, "VIP Fishing was a great way to reconnect with friends in the blind/visually impaired community and have a friendly competition while fishing. This was a great idea that Max had to put on this event." Her Father, JD, added, "Thanks to all the hard work from Max, his family and friends. VIP Fishing was a wonderful success and all the VIP's had a great time."
What Max contributed last weekend was extraordinary. He contacted Athletic Performance Ranch and they agreed to host the event. Even the unpredictable Spring Texas weather decided to cooperate.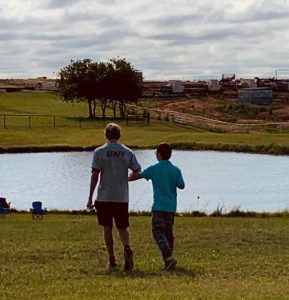 At the VIP Anglers event – Sighted Anglers work with Unsighted Anglers
Max and VIP Fishing set a new precedent on Saturday, May 4th, in Fort Worth, TX. "I am so grateful on how the event turned out. My favorite thing was watching the kids "freak out" when they caught a fish. As I went and talked with all of the VIP's to thank them for coming and asked them if they will be back next year, they said, "YES!!!" The parents thanked me and want to help next year," Max said when asked how he felt the event turned out.
Our Congratulations on an event well done and what a difference you made in many lives.
To find out more about VIP Angling, http://vipangling.com. They do plan to host their VIP Anglers event annually. Visit their website for more information.