Carl D. Regillo, MD, FACS, Chief, Retina Service Wills Eye Hospital, Philadelphia, PA, was the Keynote Lecturer at the seventh annual Vit-Buckle Society (VBS) meeting in Las Vegas. Dr. Regillo was interviewed by former fellow, Dr. Jayanth Sridhar, Bascom Palmer Eye Institute – Miami, FL.
RetinaLink contacted Dr. Regillo to highlight his interview with Dr. Sridhar and focus on key takeaways from their discussion. Dr. Regillo's opening remark included, "it was a special moment at VBS being interviewed by Jay with family, friends and new friends in the field present."
RetinaLink (RL): Please outline your background and your "fork in the road".
Carl D. Regillo, MD (CDR): I had spent four years fulfilling a military medical school scholarship obligation with the Air Force at the Naval Medical Center in San Diego.  It was a wonderful, unique, memorable experience. I was proud to serve my country and, at the end of my four commitment, it was time to decide my (our) next chapter. Definitely a special time for our family. My wife, Teresa, and I needed to determine whether to stay in California or move back East. I grew up on the East coast and we have family in Boston and friends in Philadelphia. Key decisions were certainly academic vs. private practice, raising our young children, Audrey and Grant and, of course, we had fond memories on the East Coast, Summers on the Cape and many others.
Admittedly, the weather in San Diego was tempting and a wonderful place to raise our family. The big decision point was pure academia; pure private practice or a blend of both worlds. After much contemplation, Wills Eye Hospital had the best of both – academic and private practice.
RL: When new fellows start in July, what advice and guidance do you provide in surgery/clinic?
CDR: Vitreoretinal fellowships are two years for a reason. There's a lot to learn. Challenging areas with various disease states many of which have systemic implications.
My best advice in surgery is two-fold; TAKE your time to feel comfortable and ASK for help.
As an Attending, I must recognize when my Fellows are over their head. I request to my Fellows that they communicate when they need assistance which circumvents a potential mishap in the clinic or operating room.
As a sub-specialist, you have to focus on the retinal issues but also make sure care is coordinated and be sensitive to the referring doctor. Many patients have several providers, both eye and general medical, so communication with them is imperative to the patient's overall well-being.
In summary, do what you do well. I'm trained in Ocular Oncology; however, we have two well renowned specialists at Wills Eye Hospital so I refer those patients to my colleagues.
Good habits in the clinic and operating room yield good patient care.
RL:How many Fellows have you trained over the last 26 years? What characteristics make an outstanding fellow?
CDR: As an Attending at Wills Eye, I've trained over 60 fellows and more to come. The key characteristics I look for when interviewing potential fellows include; highly competent as a doctor surgically and clinically, dependable, trustworthy, ethical and caring.
RL: What are you most proud of professionally and personally?
CDR: Both personal and professional accomplishments are intertwined. My overarching goal is to a fulfilling career. Always be a good doctor to my patients, strive to be an expert in the field of retina and continue to make contributions to our field. Teach fellows, advance research and provide outstanding patient care. Lastly, be a good and collaborative colleague with my associates at Wills Eye and in the community.
In the non-medical sense, I strive to always be a good husband and father.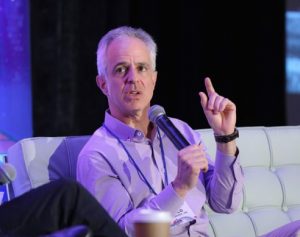 Dr. Carl D. Regillo provides his 
impressions at VBS 2018 
RL: Who is/are your mentor(s)?
CDR: There were many mentors in the field that have been instrumental in my career development. Wills mentors include Drs. Bill Tasman, Gary Brown, Bill Benson, Arch McNamara and Jim Vander, members of the Retina Service that I trained under and eventually returned to join as an associate in practice. Retina specialists' senior to me outside of Wills who were very influential even though I didn't train directly under them included Drs. David S. Boyer, Donald J. D'Amico, Harry W. Flynn, Jr. and Paul E. Tornambe. Not only were they impactful; they opened doors and embraced the same "pay it forward" philosophy.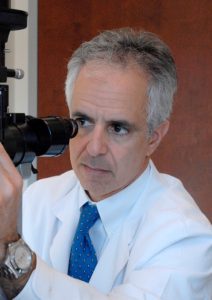 Dr. Regillo at the slit lamp
RL: What is most challenging as an Attending?
CDR: Most challenging in surgery is identifying when the fellow starts to become uncomfortable. It takes patience, recognizing when to stop them and takeover for the sake of the patient.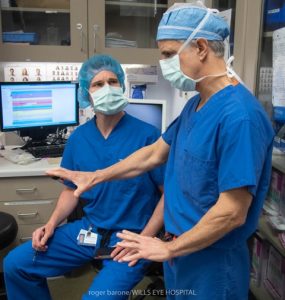 Dr. Carl Regillo teaches in his OR
The clinic is a different scenario since you are speaking with patients, family members and teaching. Patient focus is key intertwined with efficiencies, wait times, the patient's happiness quotient and a myriad of other items.  It is challenging balancing the time needed to teach and moving along efficiently in the clinic.
RL: Your second-year fellows are leaving soon, what sage advice will you give them?
CDR: Fellowship expectations are straightforward. Pursue a worthwhile career and become the best possible retina specialist. Contribute to the field in some way and give back.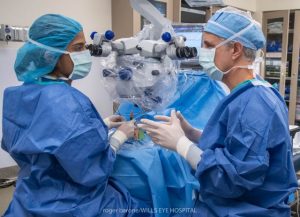 Dr. Regillo outlines the surgical plan with his Fellow
Even though you trained at Wills Eye, which is a good program, you still have a lot to learn once out in practice. Learning is ongoing/forever process; surgical techniques change, staying connected and continuing to EVOLVE allows doctors to stay at the top of their game. Analyze your failures and ensure you are not complacent. Both surgical techniques and technology as well retinal pharmaceuticals and treatment modalities, continue to change and progress. Meeting attendance is mission critical to follow subtleties and nuisances in our field that formal lectures and online CME may not bring out.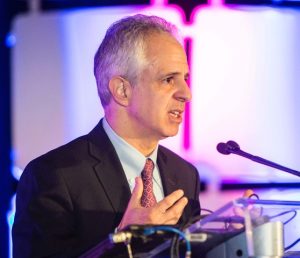 Dr. Carl Regillo presents at AAO Retina Sub-day
RL: Where do you like to vacation and outline your lifetime interest in physical fitness?
CDR: Fitness has always played a key role in my life; I enjoy skiing, cycling and running. Our family loves ski trips out west in Utah and Colorado. Summer trips to Cape Cod hold fond memories. We also travel to the Europe a lot with the Mediterranean area on the top of the list and endeavor to take adventurous holidays, too, African safaris or hiking in the Grand Canyon.
Dr. Carl Regillo can be reached via e-mail – cregillo@midatlanticretina.com