Walking around the ASRS 2017 exhibit area in Boston, I stopped at Covalent Medical to sample their new FOCUS SELECT® Chewable Eye Vitamin & Mineral Supplement. Quite frankly, I was hesitant to take any supplement on an empty stomach; however, I said, "OK, I'll try one." FOCUS SELECT's new AREDS2 based chewable have a tangy citrus flavor, like an orange SweeTART®. The reality is a tasty chewable is key for aging patients. Many times patients take several medications as well as an eye health vitamin supplement.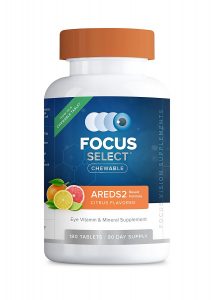 Covalent Medical's, FOCUS SELECT AREDS2 based formulation, reflects the latest improvements discovered in the National Eye Institute's Age-Related Eye Disease Study (AREDS2®), replacing beta-carotene with lutein and zeaxanthin and limiting zinc to the lowest dosage proven effective in the study. Their formulation; not only, provides powerful levels of the nutrients shown to be beneficial in AREDS2, it is safer for smokers than the original AREDS® and reduces the risk of side effects associated with higer levels of zinc found in common brands.*
I had the opportunity to meet Mohammed K. Barazi, MD, Retina Group of Washington, Sterling and Manassas, VA. He is the CEO & Chairman of the Board for FOCUS Vision Supplements. Dr. Barazi said, "Covalent consists of approximately 25% of the Retina doctors in the country, we feel like we have a pulse on what our retina colleagues believe and most accept the AREDS2 data." He continued by saying, "Currently there is no therapy for non-exudative AMD. So while not a panacea, the AREDS and AREDS2 studies show a potential to protect our patients from advanced AMD to a reasonably significant degree on the order of 15 to 20%. Based on this data and other data showing patients struggle with compliance, we started Covalent Medical as a consortium of large retina practices to help our patients improve their vitamin compliance to hopefully lower their risk of visual decline."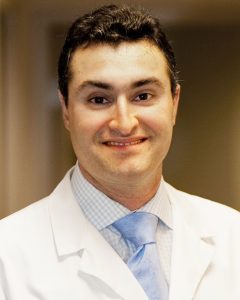 Mohammed K. Barazi, MD

RetinaLink (RL): Why Did Focus Vision Supplements choose to invest in a chewable AREDS2?
Mohammed K. Barazi, MD (MKB): "As a Physician led company, we aim to provide solutions that help our patients. We knew from our discussions with patients they were looking for an alternative to swallowing pills and sought to develop a good solution."
 RL: What are the benefits for the Patient and for the practice?
MKB: "Our FOCUS SELECT Chewables are a tasty way to help the patients maintain compliance with the AREDS2 study, and to provide the practice with an option that increases patient loyalty and addresses the declining reimbursement trend for physicians."
Dr. Barazi can be reached via e-mail at mbarazi@rgw.com

Maintaining eye health is critical as we continue to age and finding the optimal supplement is key and both the AREDS and AREDS2 studies substantiated the importance of maintaining patient's eye health. FOCUS SELECT new chewable is truly a winner for your patients.
Covalent Medical will be attending the upcoming Aspen Retina Detachment Society meeting, March 3 – 8, in Snowmass Village, Colorado and feature FOCUS SELECT AREDS2 based formulation new chewable eye vitamin and supplement. Plan to visit their exhibit or click on their website link,  http://focus.steadfa.st/email/2017/select-chewable-launch-2.html, to have one of Covalent Medical's sales professional's outline one of their custom programs for your practice.
* These claims have been evaluated by the Food and Drug Administration. These products are not intended to diagnose, treat, care, or prevent any disease. AREDS®and AREDS2® are registered trademarks of the US Department of Health and Human Services and is not affiliated with Covalent Mediucal, LLC.