RetinaLink's Following the Fellows is pleased to feature Katherine Talcott, MD, who is finishing her retina fellowship at MidAtlantic Retina/Wills Eye Hospital in Philadelphia, PA. Dr. Talcott's background includes studying history of science as an undergraduate at Harvard College, attending medical school at the University of California, San Francisco (UCSF). Then, she moved back to Boston and did my internship internal medicine at Brigham and Women's Hospital followed by ophthalmology residency and a separate year-long chief residency year at Massachusetts Eye and Ear (MEE) running the Trauma Service. She will be joining the staff at Cole Eye Institute/Cleveland Clinic in July. Congratulations to Dr. Talcott and read her entire RetinaLink interview below.
Dr. Carol L. Shields, Chief, Ocular Oncology at Wills Eye said, "Katherine (Kat) Talcott is truly one-of-a-kind. Trained as Mass Eye and Ear residency and then Wills Eye Hospital in retina fellowship, she is brilliant, sharp, funny, and "one of the gang". She is a true pleasure to work with and discuss challenging clinical/surgical management. Practicality is her forte. Kat is destined to charge forward and trim the path for new retina staff, especially young women entering the field. Thanks Kat for your positive and hugely influencing force at Wills."
RetinaLink (RL): Why did you decide on retina?
Katherine Talcott, MD (KT): Being a retina specialist offers you the opportunity to help manage amongst the most challenging cases encountered within ophthalmology but also help make a big difference in a person's overall quality of life. There is also so much innovation in the field, including in medical treatments, imaging, and surgical technology–it will never get boring!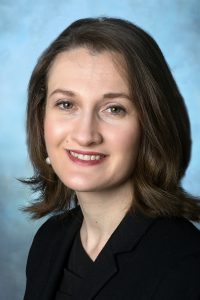 Katherine Talcott, MD
RL: Who is your female mentor(s)?
KT: I've been fortunate to have had a number of strong female mentors throughout my training and am thankful for all of their support. Mentorship is so important during clinical training to help develop your clinical, research and professional interests. Retinal degeneration expert Dr. Jacque Duncan really introduced me to retina research when I spent a year in medical school working with her on an adaptive optics imaging project. At MEE, program director Dr. Carolyn Kloek and chair Dr. Joan Miller are strong female leaders who supported me during my residency. During fellowship, I have enjoyed working with chair Dr. Julia Haller, Dr. Carol Shields and  Dr. Sonia Mehta.
RL: What do you find most challenging professionally?
KT: As I approach the end of fellowship, I'm starting to wrestle with how I will do things in the clinic and OR in my own practice. During training, we are used to doing the things our attendings tell us to and executing their preferred treatment strategies in clinic and/or using their preferred instruments in the OR. I'm excited and yet undecided about what I'll do in my own practice. Will I inject anti-VEGF agents or perform pan-retinal photocoagulation laser for early proliferative diabetic retinopathy? How much intraocular steroid will I use for resistant macular edema? What will be my vitrectomy gauge of choice? Should I do a buckle, vitrectomy or both for phakic retinal detachment patients? How will be my preferred technique for draining subretinal fluid in a vitrectomy? I'm excited to forge my own path but I'm sure I'll be reaching out to my mentors still for advice!
RL: What's your preferred small gauge platform?
KT: At Wills, we are fortunate enough to operate with all 15 attendings and get exposed to a variety of small gauge surgical platforms and surgical instruments and approaches. In particular, I have used the ALCON CONSTELLATION®, BAUSCH + LOMB STELLARIS® and DORC EVA® in various gauges. All these systems have their advantages and as a fellow, it is important to be exposed to multiple systems and instruments. As we embark on our first jobs, we won't always be able to control what systems are available to us, especially if we find ourselves operating at more than one site. Additionally, I think it is important that to tailor the gauge and tools depending on the case—a diabetic tractional retinal detachment is more amenable to 27-gauge than a dropped lens case. However, for bread and butter cases, it's hard to beat the flexibility and efficiency of 23-gauge as long as you have good control—you can still use smaller gauge instruments if you need to for complex cases.

RL: Regarding NGENUITY®, what has been your "ah-ha" moment in the OR with your Wills Eye Attendings and how many cases did you perform before you were comfortable with 3D technology?
KT: NGENUITY, the three-dimensional heads-up display viewing platform, is an exciting technology for the OR. It offers improved surgical depth perception and, as a fellow, can definitely aid in teaching. For instance, Dr. Allen Ho will often help explain how to better peel in particular cases by actually pointing at the screen and showing us, rather than telling us as he would using the traditional microscope, where to move our instruments. It also helps with involving other participants in the room. We have used it for Argus implantation and research study patients, including subretinal injection of RGX-314, where it is very helpful to have the surgeon, OR staff, and device support persons all sharing the same live surgical view. Like any new technology, though, there is a learning curve. While I'm always improving, I felt much more comfortable with the NGENUITY after getting 10-15 cases under my belt. Part of this is learning how to help the technology help you, including arranging the screen for the best ergonomics and adjusting light/contrast/pupil size. Part of it is also adjusting to increased magnification and visualization. Dealing with the slight delay, especially when performing anterior work like suturing, is still a work-in-progress. I am excited to see where this technology is going! We actually just completed a prospective study coming the NGENUITY to the standard microscope, so stay tuned!

RL: What is your opinion of Intraoperative OCT? Does it change your surgical plan?
KT: To be honest, we don't rely on intraoperative OCT for our standard surgical cases at Wills. It can be helpful especially for macular pathology to ensure traction has been relieved or the epiretinal membrane has been sufficiently removed but good visualization/staining and other intraoperative cues are also useful to answer these questions. However, I think a careful review of preoperative images including OCT is incredibly valuable in these cases and can impact surgical plan, including approach to peel/need for an internal limiting membrane flap and choice of tamponade.

RL: What is your best advice to the incoming fellows that start in July?
KT: Fellowship is short—you only have two years to acquire as much knowledge, skill, and experience as possible before embarking on your retina career. See as many patients as you can and don't shy away from taking care of complicated patients in the clinic or OR. These are often the patients you will learn the most from! Don't be afraid to try new approaches—whether it be injection approaches or new surgical techniques. Spend time with your attendings—seek out their advice and don't be afraid to discuss your complications. Our attendings at Wills have a wealth of experience and we are lucky to gain valuable insight from them, not only about technically managing medical or surgical disease, but also about the factors outside of your control such as expectations and compliance. Maximizing these experiences during fellowship increases the likelihood you will feel comfortable managing a given situation when your fellowship ends and you are on your own.
RL :What is your favorite thing to do when you have some free time?
KT: It may sound simple but I really enjoying spending time with my family. My husband and I have energetic twin toddler boys and we spend most of our free time trying to keep up with them! Watching them explore and discover the world around them is such a treat and helps me recharge for busy clinic and OR days.
Dr. Katherine "Kat" Talcott can be reached at ktalcott@gmail.com