Camila Ventura, MD will continue her family's legacy now that she has completed her Pediatric Retina Research Fellowship with Dr. Audina Berrocal at Bascom Palmer Eye Institute in Miami, FL. This past year, Dr. Berrocal and Camila worked together on Zika virus (ZIKV) research. RetinaLink asked Dr. Berrocal about Camila and she said, "Camila is a woman with a unique drive and tenacity that is rare to find especially in combination with a kind, humble personality with a passion for life!"
RetinaLink's Following the Fellows with Dr. Ventura focuses on her career and work with ZIKV. The ZIKV is now a global epidemic recognized by the WHO, World Health Organization. Spring has sprung and higher temperatures, rain and humidity create the ideal conditions for mosquitoes to proliferate and transmit the Zika virus.
A new peer review article in press in JAAPOS, official publication of the American Association for Pediatric Ophthalmology and Strabismus, Visual Impairment in Children with Congenital Zika Syndrome, by Liana O. Ventura, MD, PhD, Camila V. Ventura, MD, Linda Lawrence, MD, Vanessa van der Linden, MD Mac, Ana van der Linden, MD, Adriana L. Gois, MD, Milena M. Cavalcanti, MD, Eveline Araujo Barros, MD, Natalia C. Dias, M, Audina M. Berrocal, MD, Marilyn T. Miller, MD, http://dx.doi.org/10.1016/j.jaapos.2017.04.003

RetinaLink (RL): Where did you go to Medical school?

Camila VENTURA, MD (CM): I went to medical school at the Severino Sombra University, located in Rio de Janeiro State, Brazil. After medical school, I trained for Ophthalmology at the Altino Ventura Foundation (FAV), a non-profit organization founded by my grandfather (Dr. Altino Ventura), his partner (Dr. Inácio Cavalcanti), and their respective sons and wives (Marcelo and Liana Ventura + Ronald and Elani Cavalcanti). The FAV, located in Recife Brazil, was founded in 1986 to provide vision services to low-income families in the state of Pernambuco. I'm telling you about the FAV and its location because it is very important for the Zika story that I will be telling you.
After finishing my residency program in Ophthalmology, I trained for Medical Retina in the Federal University of São Paulo (Unifesp) and in 2015, I started my surgical retina training back at the FAV. In 2016, the opportunity to come to Bascom Palmer Eye Institute (BPEI) to spend a year doing research with Dr. Nina Berrocal arose and I took it without hesitation. I still have one more year of surgical retinal training back home.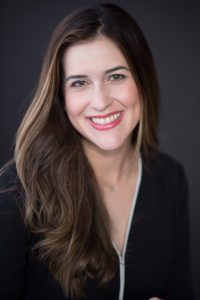 Camila VENTURA, MD 
RL: Why did you apply as a fellow at Bascom Palmer Eye Institute with Dr. Audina Berrocal versus another academic institution and mentor?
CM: This is a very interesting story and I tend to think of it as a perfect example of serendipity. I don't know if you captured this when I mentioned above, but I am the third generation of ophthalmologists in my family. My grandfather was the first Ophthalmologist and then both my parents became ophthalmologists. My father specialized in Surgical Retina and my mother in Pediatric Ophthalmology in Puerto Rico in 1985. And here comes the highlight of the story: my father trained surgical retina with Dr. José Berrocal (Dr. Nina Berrocal's Father). Since then, our families have been connected.
Years later, while I was still a 5th year medical student, I am introduced to Retinopathy of Prematurity and that moment I just knew it: I wanted to do retina, but not just retina, I wanted to do Pediatric Retina. Fast forward, I'm talking to Dr. Maria Berrocal (Dr. Nina Berrocal's sister) during a meeting and she asked me what I wanted to do after I finished Ophthalmology training. The moment I answered, "Pediatric Retina", "boom!" – things just happened and here I am, with the most talented and distinguished pediatric retina specialist ever: Dr. Nina Berrocal.
RL: What was the biggest surprise about your Fellowship?
CM: The biggest surprise was certainly the "Zika virus (ZIKV)" studies that Dr. Berrocal and I worked on this year. When Dr. Berrocal and I first planned my year as her fellow, we had ROP research in mind. However, a few months prior to my arrival at Bascom Palmer, my state in Brazil (Pernambuco state) started reporting microcephaly cases that was later proven to be related to ZIKV. My involvement with ZIKV happened so rapidly and so intensely that by the time I arrived, my team back in Brazil and I had already three reports on the ocular findings identified in babies with congenital Zika syndrome (CZS). Four months later to my arrival, we were informed that ZIKV had reached Miami.
RL: Dr. Berrocal works with pediatric patients and is an expert on the ZIKV. In your work with her, please describe what ZIKV is and outline the complications.
CM: I could say that "perfect momentum" defines very well our year together. As soon as I arrived in Miami, I shared with Dr. Berrocal what I had seen in Brazil and invited her to come and see for herself. She agreed, and in early June 2016, she came to the FAV to examine babies with CZS.
On July 29, 2016, the Florida Department of Health confirmed the first two cases of acquired ZIKV infection in Miami. This moment simply marked the beginning of our journey with ZIKV at Bascom Palmer.
Honestly, I cannot think of a better mentor in pediatric retina than Dr. Berrocal. I was indeed very fortunate to work this past year with her on CZS, mostly because I think we had a great connection and we got along so well. During this year, I always felt her support and encouragement, which were essential for my professional maturation. Working with this renowned professional with such a vast know-how on pediatric retina, was just extraordinary!
RL: The WHO recognizes ZIKV as a global epidemic. What precautions should be taken since its mosquito season?
CM: Scientists have been investing an immense effort in developing an effective vaccine and antivirals to prevent ZIKV infection. However, until the vaccine is tested in humans and approved, the only way to avoid Zika spread and infection is by adopting prophylactic measures. Some of these measures include educating the population regarding standing water, advising the population at risk to avoid traveling to areas with active Zika infection, to make use of contraceptive methods, and the use of mosquito repellant in epidemic areas. As of today, surveillance is ultimately the key to prevention and control of any disease that may affect a large population.
RL: What is microcephaly and is there a relationship between microcephaly and ocular findings?

CM: Microcephaly is a condition in which a baby's head is significantly smaller than expected, often due to abnormal brain development.

Studies have shown that the vertical transmission of ZIKV is related to microcephaly and other brain findings. However, in addition to these neurological findings, now we know that ZIKV may cause other clinical manifestations including ocular findings, skeletal malformations, and hearing deficit. This broad spectrum of neurological, ocular, skeletal, and audiological findings has been compiled and scientists came up with a new terminology for this novel entity called the Congenital Zika Syndrome (CZS).
After being the firsts to describe the ocular findings of CZS in the literature, our group at the FAV has been focusing on the visual impairment and habilitation of these affected children. Our last study, to be published in JAAPOS, addresses the visual impairment in 32 children with confirmed diagnosis for CZS, and concluded that regardless of the ocular findings that was present in 44% of the babies, all presented with visual impairment. This new finding suggests that the baby's brain damage may be the major cause of visual disability in these children, characterizing a cortical visual impairment (CVI).
RL: If a patient has been exposed and is infected with ZIKV, what should they do? If they are pregnant or may be pregnant, what should do they do?
CM: 80% of the infected individuals never present any symptoms. Those that are symptomatic, on the other hand, generally complain of mild symptoms including fever, headache, pruritic cutaneous rash, arthralgia and non-purulent conjunctivitis that lasts from 2 to 7 days.
Once presenting symptoms, the patient should be tested to confirm the diagnosis. However, in terms of treatment, there is no specific medication to be taken. Patients are encouraged to rest and ingest fluid. Pain killers such as acetaminophen can be used for symptoms relief. It is important to mention that an adult patient tested positive should use protection during sexual intercourse to prevent the disease transmission to the partner.
As for pregnant women, they should be tested for ZIKV infection during the first, second, and third trimester. In case a pregnant woman is tested positive in any trimester, she should be followed closely during the remaining time of pregnancy until delivery. Once the baby is delivered, Zika testing is also performed as well as a comprehensive screening of the brain, eyes, hearing system, and lower and upper limbs should be performed.
RL: What's your advice for incoming Fellows in July? 
Be creative and explore the many possibilities that a fellow with Dr. Berrocal offers. It is important to be a passionate, confident, humble, and resilient fellow. Just one more piece of advice: persevere in pursuing your dream to become a pediatric retina specialist – it is totally worth it!
RL: Please describe your perfect vacation destination.
You don't need to ask me twice, beach is the answer. I was born on the northeast coast of Brazil, known for its warm weather and excellent beaches. So, as expected, I have been exposed to the life at sea since I am a child. The ocean has also a very special meaning to me because it has frequently been the destiny for my family's retreats. Any beach with warm weather, a relaxing view of the ocean and white fine sand, is considered a little piece of paradise to me.
Dr. Camila Ventura can be reached via e-mail at camilaventuramd@gmail.com