We gather each year on Friday evening at the annual American Academy of Ophthalmology meeting to welcome, honor and recognize the incoming Ronald G. Michels Fellowship Foundation Award recipients and perpetuate Dr. Ronald G. Michels' legacy.
Dr. Alexander "Sandy" J. Brucker greeted this year's guests and honorees and asked them to "please take a seat". Dr. Michels's colleagues and others surrounded the room as Dr. Brucker introduced Annual Meeting Master of Ceremonies, Jonathan L. Prenner, MD.
Dr. Brucker continued his introductory remarks by recognizing Dr. Charles "Pat" Wilkinson and Mrs. Alice Michels Wilkinson and Dr. Michels's son, Mr. Randy Michels.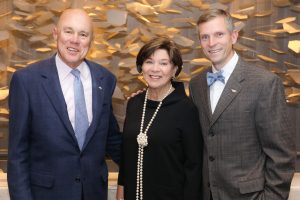 Pat Wilkinson, MD, Mrs. Alice Michels Wilkinson
& Mr. Randy Michels

The Ronald G. Michels Fellowship Foundation was established in 1991 as a non-profit organization whose mission is to support second-year fellows training in vitreoretinal surgery in the United States. Training was key to Dr. Michels, who left the retina community too soon. This year, the Foundation awarded five new vitreoretinal fellows the prestigious Ronald G. Michels Fellowship Foundation Award. There are now 95 Michels Foundation Award Winning Fellows. Dr. Michels was a not only a pioneer in vitreoretinal surgery, he also impacted the lives of residents and fellows during their fellowship training at the Wilmer Eye Institute in Baltimore, MD.
Dr. Prenner is always quick witted as he introduces each award-winning retina fellow and his or her mentor, each of whom outlined the many accomplishments of the respective awardee. He also updated the audience on the work of last year's winners. "We are so pleased to have another fantastic group of winners. The annual meeting is always a great homecoming for the extended Michels Foundation family and we greatly look forward to next year in San Francisco," Dr. Prenner commented.
This year's Ronald G. Michels Fellowship Foundation Award winners include Drs. Stavros Moysidis, Philip Storey, Edward Wood, Thomas Wubben and Wenlan Zhang.
Stavros Moysidis, MD is a fellow at Associated Retina Consultants/Beaumont (Royal Oak, MI). He said, "I am grateful for my mentors and patients at ARC / Beaumont during fellowship and at LAC / USC Roski during residency. I'm humbled to join the Michels Foundation Fellowship family. Whether we're tackling peripheral tractional membranes in a child with FEVR, a posterior choroidal melanoma, a subluxated IOL with pesky haptics, a 1000+ micron refractory macular hole, or Herculean PVR – the mountains are there to climb!"
Dr. Moysidis enjoys research designed to help our patients. He has worked on innovative projects, including developing a magnetic, nanoparticle-based, cell delivery system, which has made the long journey from bench to clinical trials and invigorated by collaborating with individuals from different backgrounds with fresh ideas.
He seeks to be challenged and reach for his best. He's grateful to his family for their endless love and support and his wife, Nicole, for being his rock.
Philip Storey, MD, MPH is a fellow at Wills Eye Hospital in Philadelphia. During residency, he served as co-Chief Resident at Los Angeles County Hospital and the University of Southern California Roski Eye Institute. He completed his medical training at Johns Hopkins University School of Medicine and received a Masters of Public Health from the University of Sydney.
Dr. Storey said, "I am passionate about vitreoretinal care and clinical research. My current research projects focus on the efficacy and safety, including endophthalmitis and secondary retinal detachment, of intravitreal injections of anti-vascular endothelial growth factor agents. After fellowship, I aim to join a retina group in which we provide excellent patient care, pursue clinical research, and teach aspiring ophthalmologists. I also look forward to finally getting a real job."
Other interests include marathons, ironman triathlons, and chasing my two golden retrievers, Georgie and Commando.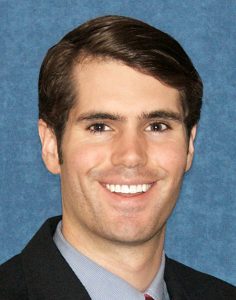 Edward Wood, MD

Edward Wood, MD said,"I am very honored to be a part of the Michels Foundation Fellowship family! I'm currently a fellow at Associated Retinal Consultants, William Beaumont Hospital, which continues to be an amazing experience. Following fellowship, I will join the faculty of Stanford University Department of Ophthalmology practicing adult and pediatric vitreoretinal surgery and engaging in research."
Dr. Wood completed his residency at Stanford and is excited to join such a talented group of retinal surgeons. His research interests are currently focused on creating patient-specific vitreoretinal therapeutics using patient-derived induced pluripotent stem cells (iPSCs), optogenetics, and high-throughput drug discovery screening tools. Using this platform our team has developed a novel way to treat mitochondria in retinal disease, and we look forward to developing future therapeutics for pediatric and adult patients.
Other interests include spending time with my family and friends, running and hiking outdoors, traveling, and seeing live music.
Thomas Wubben, MD, PhD said, "I have had the phenomenal opportunity to complete my residency and vitreoretinal fellowship training at the University of Michigan, Kellogg Eye Center. I am grateful to have been mentored by the many clinician-scientists throughout the Department of Ophthalmology and Visual Sciences, and I will have the honor of joining the faculty at the University of Michigan as an Assistant Professor upon completion of my fellowship." 
Dr. Wubben's research tackles the root cause of vision loss in numerous retinal diseases, photoreceptor cell death. No successful treatments currently exist to prevent photoreceptor cell loss. He has been and will continue to address this unmet need by investigating photoreceptor metabolic reprogramming as a novel therapeutic strategy for photoreceptor neuroprotection.
Outside of work, Dr. Wubben enjoys spending time with his wife, their families, and friends, and keeping a keen eye on Chicago sports. He said, "I am humbled to receive a Ronald G. Michels Fellowship Foundation Award."
Wenlan Zhang, MD said, "I am incredibly honored and humbled to be part of the Michels Foundation Fellowship family. I completed my residency and chief resident year at Duke. Fortunate to have matched for fellowship training at Duke, I am inspired every day by my mentors who serve as role models in their dedication to patient care, innovative and impactful research, and clinical and surgical education."
Dr. Zhang continued, "I am excited to be part of the vitreoretinal surgery community and am eager to tackle the challenges of diagnosing and treating retinal disease as the field continues to advance. My academic interests include clinical and community healthcare education, and the use of imaging technologies as diagnostic screening tools and intraoperative aides. After fellowship training, I hope to join an ophthalmology department or practice focused on excellence in patient care, community service, and involvement in intellectual pursuits such as clinical research and trainee education."
Outside of medicine, Dr. Zhang enjoys spending time with family, friends, and two loveable dogs, hiking, exploring, and dabbling in amateur photography.
This year's Corporate Sponsors included Genentech, Regeneron, Novartis, Alcon and the Vit-Buckle Society, http://vitbucklesociety.org.
Visit http://michelsfoundation.org to see past winners and learn more about the Foundation's mission or contact Medical Conference Planners, http://medconfs.com
Photos: Kevin Caldwell Photography