Dr. Ronald G. Michels' legacy lives on each year when we join on Friday evening of the annual American Academy of Ophthalmology meeting to recognize the Ronald G. Michels Fellowship Foundation award recipients. It's a truly remarkable evening since it's like going home for past Foundation award winners, retina colleagues and former fellows. Dr. Michels's colleagues and others surrounded the room as Dr. Alexander "Sandy" Brucker welcomed everyone and reminisced about the important contributions that Dr. Michels made to the field of VR surgery. Dr. Brucker continued his introductory remarks by recognizing Dr. Charles "Pat" Wilkinson and Mrs. Alice Michels Wilkinson. Dr. Brucker also recognized two of the Foundation Board Members, Mr. Randy Michels and Dr. Allison Michels-Pettinelli as well as Dr. Michels's grandchildren who attended for the first time.
Featured Photo: Current & Previous Michels Foundation Award Winners
The Ronald G. Michels Fellowship Foundation was established in 1991 as a non-profit organization whose mission is to support second-year fellows training in vitreoretinal surgery in the United States. Training was key to Dr. Michels, who left the retina community too soon. This year, the Foundation awarded four new vitreoretinal fellows the prestigious Ronald G. Michels Fellowship Foundation Award. There are now 90 Michels Foundation Fellows, who perpetuate Dr. Michels's legacy. Dr. Michels was a not only a pioneer in vitreoretinal surgery, he also impacted the lives of residents and fellows during their fellowship training at the Wilmer Eye Institute in Baltimore, MD.
Dr. Brucker then introduced Jonathan L. Prenner, MD, Annual Meeting Master of Ceremonies. Dr. Prenner is always quick-witted and said, "It is always a great honor to be back at the Michels Foundation annual event with close friends. It is a time that helps up recognize the best and brightest in our field, and recommit ourselves to research and patient care at the highest level.  These are the touchstones of what Dr. Michels taught our community, and ring ever more important in the modern healthcare environment." Dr. Prenner introduced each award-winning retina fellow and his or her mentor, each of whom outlined the many accomplishments of the respective awardee. He also updated the audience on the work of last year's winners, Drs. Aaron Nagiel, Thanos Papakostas, Aristomenis Thanos and Bozho Todorich and where they are one-year post Fellowship.
This year's winners include…
Arunan Sivalingam, MD, introduced Dr. Christopher Aderman, who is a second-year fellow at Wills Eye Hospital in Philadelphia, and outlined his accomplishments at Wills Eye. Dr. Aderman is interested in the adoption and application of technology to advance research and clinical care. In the lab prior to medical school, he studied confocal microscopy and methods to quantify neovascularization in a mouse retinopathy model. In his residency, he led a collaboration with software developers using the Oculus Rift, a virtual reality head-mounted display, to test a treatment for amblyopia in adults and remotely monitor visual parameters. Currently, Dr. Aderman is involved in several projects, including a translational collaboration testing a cell death pathway in retinal detachment and other retinal disorders.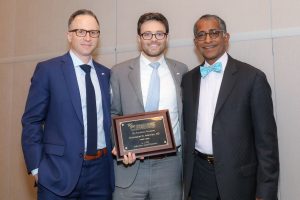 Drs. Jonathan Prenner, Christopher M. Aderman and Arunan Sivalingam
Sharon Fekrat, MD, applauded Dr. Avni Finn's work at Duke Eye Center. Dr. Finn completed her residency in Ophthalmology at the Massachusetts Eye and Ear Infirmary where she was first inspired by her mentors to pursue further training in vitreoretinal surgery. Dr. Finn continues to hone her clinical acumen in retinal disease, develop her surgical skills in vitreoretinal surgery, and pursue her research interests in this field. Her research interests include using imaging advances to help further our understanding of retinal disease pathogenesis, innovating on vitreoretinal surgical techniques to improve patient outcomes, and improving the quality of retinal care delivery at the population level by understanding utilization patterns in healthcare.
Dr. Alexander J. Brucker recognized Anton Kolomeyer, MD, PhD, who is a vitreoretinal surgical fellow at the Scheie Eye Institute of the University of Pennsylvania. Dr. Kolomeyer has strong interests in clinical ophthalmology, patient care, education, and translational research. His current research projects focus on the association of systemic medications with age-related macular degeneration as well as optical coherence tomography angiography imaging of patients with various retinal diseases. He's also a sub-investigator on a number of clinical trials, including subretinal gene therapy trials for patients with retinal degeneration and dystrophy.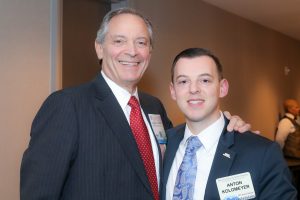 Alexander J. Brucker, MD and Anton M. Kolomeyer, MD, PhD
Glenn Jaffe, MD, introduced Dr. Ashkay S. Thomas. After Dr. Thomas completes his fellowship in Vitreoretinal Surgery at Duke Eye Center, he will be doing additional training in Uveitis at the Casey Eye Institute in Oregon. Then, he will join Tennessee Retina in Nashville where he will be practicing medical/surgical retina and uveitis. His research interests are broad and is currently involved in numerous projects involving the development of clinical trial endpoints in uveitis, multimodal retinal imaging, surgical techniques and instrumentation development. Additionally, he's involved in international community outreach focused on the development of a sustainable infrastructure to bring consistent vitreoretinal care to nations in the South Pacific.
Corporate sponsors for the Foundation include Genentech, Inc., Regeneron Pharmaceuticals, Inc., Retina Today, Evolve Medical Education and the Vit-Buckle Society. Support is also provided in the form of an educational grant from Alcon Laboratories, Inc.
To find out more about the Ronald G. Michels Fellowship Foundation, http://www.michelsfoundation.org or contact via e-mail at karen.baranick@michelsfoundation.org
Photos: Kevin Caldwell Photography