Dr. Alexander "Sandy" Brucker welcomed everyone to the 26th annual Ronald G. Michels Fellowship Foundation event at this year's AAO meeting in Chicago, IL. The Ronald G. Michels Fellowship Foundation was established in 1991 as a non-profit organization whose mission is to support second-year fellows in training in vitreoretinal surgery in the United States. There are now 86 Michels Foundation Fellows, who perpetuate Dr. Michels legacy. Dr. Michels was a not only a pioneer in vitreoretinal surgery but also impacted the lives of residents and fellows during their fellowship training at the Wilmer Eye Institute in Baltimore, MD.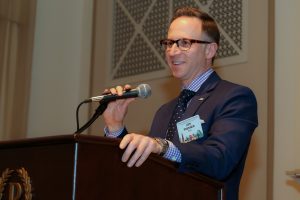 Jonathan Prenner, MD

Jonathan Prenner, MD, Annual Meeting Master of Ceremonies, is always quick-witted as he introduces each award winning retina fellow and his or her mentor, each of whom outlined the many accomplishments of the respective awardee. Last year's winners, Drs. Dilraj Grewal, Ali Khan and Yoshi Yonekawa updated the audience on their work and where they are one-year post Fellowship.
This year's winners include…
Aaron Nagiel, MD, PhD was recognized by his Fellowship Program Director, Steven D. Schwartz, MD. Dr. Nagiel is a second-year vitreoretinal fellow at UCLA, Jules Stein Eye Institute, in Los Angeles, CA. His journey through medicine began with a combined MD-PhD program at Cornell University in New York, New York.
During Dr. Nagiel's PhD training at The Rockefeller University, he developed an experimental system in live zebrafish larvae to study how neurons form the highly specific connections necessary for neural function. This fascination with sensory organ development triggered his interest in ophthalmology and the retina.
Thanos Papakostas, MD was applauded by Dr. Dean Eliott. Dr. Papakostas completed his Ophthalmology Residency at Massachusetts Eye and Ear Infirmary, MEEI, and continued training there as a Fellow. He is honored every day to be with all his outstanding mentors and a great group of co-Fellows and Residents. He's heavily involved in Resident teaching in the emergency room, clinic and the operating room.
Dr. Papakostas current research is focused on the genetics of radiation vasculopathy and outcomes of proton beam irradiation for large choroidal melanomas. MEEI is conducting a GWAS study in order to identify potential genetic risk factors for radiation vasculopathy.
Aristomenis Thanos, MD was introduced by Dr. Tarek Hassan. Dr. Thanos graduated from medical school at the National Kapodistrian University of Athens, Greece. He initially joined the Angiogenesis Laboratory of Massachusetts Eye and Ear Infirmary and cultivated his basic science research interests under the mentorship of Dr. Demetrios Vavvas and Dr. Joan W. Miller at MEEI. These formative years in the laboratory fostered his interest in the molecular mechanisms involved in vitreoretinal diseases.
Dr. Thanos residency training at the Massachusetts Eye and Ear Infirmary and subsequent vitreoretinal fellowship at Associated Retinal Consultants, ARC, has provided diverse exposure and invaluable learning opportunities. He's now envisioning a career treating adult and pediatric vitreoretinal diseases, training future generations of eye care providers, and conducting translational research. His research interests are broad and include investigation of the molecular mechanisms involved in both developmental and pathological retinal angiogenesis, imaging of pediatric vitreoretinal diseases, and novel surgical techniques.
Bozho Todorich, MD, PhD was also recognized by Dr. Tarek Hassan. Dr. Todorich came to the United States as an exchange student from the former Yugoslavia. He received his MD and PhD from the Penn State University. During his residency at Duke, he had great retina mentors who steered him towards vitreoretinal surgery and was very fortunate to continue his training at ARC. At the end of his fellowship, he plans to return home to Pennsylvania and will be joining Pennsylvania Retina Specialists, PC, where he hopes to build a comprehensive vitreoretinal surgical and medical practice with also a strong focus on clinical and translational research.
Now, he's involved in over two dozen studies in pediatric and adult retina. His research is focused on improving techniques of scleral IOL fixation, developing strategies for treatment-resistant neovascular AMD and diabetic macular edema, and applications of intraoperative imaging in vitreoretinal surgery.
The Sponsors for this year include Genentech, Regeneron and the Vit-Buckle Society. The Foundation is also supported by an educational grant from Alcon Research, Ltd.
Please click here to learn more about the Michels Foundation.
Featured photo (L to R): Alexander "Sandy" Brucker, MD, Thanos Papakostas, MD, Aristomenis Thanos, MD, Bozho Todorich, MD, PhD, Aaron Nagiel, MD, PhD and Charles P. "Pat" Wilkinson, MD
Photos: Courtesy of Kevin Caldwell Photography