Alcon kicked off its 2019 Retina Exchange Broadcast series on Wednesday, February 20th in Fort Worth, Texas. Moderator Dr. Audina (Nina) M. Berrocal, Miami, FL, welcomed viewers to the live streamed event and guided them through the 90-minute broadcast of retina surgery with new techniques and interesting little tricks. Dr. Berrocal continued by introducing the great Faculty, Drs. R.V. Paul Chan (Chicago, IL), Arshad M. Khanani (Reno, NV), Lejla Vajzovic (Durham, NC) and Christina Y. Weng (Houston, TX).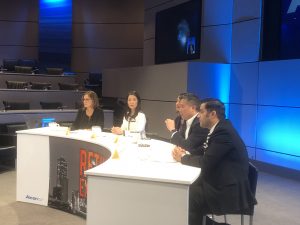 Drs. Nina Berrocal, Christina Weng, Lejla Vajzovic,
Paul Chan and Arshad Khanani at Alcon's
Retina Exchange Broadcast on February 20,2019
The Faculty's surgical videos incorporated a variety of retinal disease states which highlighted the latest in vitreoretinal surgical technology, NGENUITY® 3D Visualization System, ULTRAVIT® Vitrectomy Probe, FINESSE Sharkskin™ ILM Forceps, FINESSE™ Flex Loop, PERFLUORON® perfluorocarbon liquid and hybrid small gauge (23, 25 and 27). Anti-VEGF, the latest in gene therapy and Intraoperative OCT were also in their surgical armamentarium.
This 90-minute program provided not only an interesting and collegial discussion; but also, provided an excellent perspective on the latest surgical techniques.
Click on the link to view the entire broadcast https://edge.media-server.com/m6/p/vcknc9pu