UNITE. EXCHANGE. ADVANCE. Impactful words…
Retina World Congress (RWC) inaugural meeting will kickoff on Thursday, February 23, 2017, in Fort Lauderdale, FL, at the Marriott Harbor Beach Hotel. Certainly a comfortable and familiar venue that the global retina community knows very well. 
There are many opportunities to attend retina meetings around the globe during each calendar year. Everyone is busy with patients, clinic, surgery, clinical studies, etc. However, RWC is a meeting to consider when planning your 2017 calendar. It's different based on my conversation with Drs. Rishi Singh, RWC Meeting President, Cole Eye Institute, Cleveland Clinic, and Tarek Hassan, RWC Executive Board Member, Associated Retinal Consultants, Oakland University William Beaumont School of Medicine, Royal Oak, MI. RetinaLink interviewed both Drs. Singh and Hassan to find out more about RWC and most of all, why retina specialists should plan to attend RWC's inaugural meeting. To find out more, see their comments below or click on http://retinaworldcongress.org
I) RetinaLink: Please discuss the genesis of Retina World Congress. Was it an "AHA" moment?
Rishi SINGH, MD (RS): Throughout my retina career, I've been very fortunate to attend International meetings. This was a privilege early in my fellowship at Cole Eye Institute. I found it powerful to attend a meeting over the weekend, listen to a presentation followed by a panel discussion and then, incorporate that in your clinic on Monday.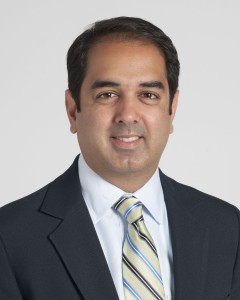 Rishi Singh, MD

Retina World Congress is a labor of love for me. I really wanted to see and quite frankly, "we" as a retina community need all major retina societies to participate by coming together to collaborate on planning this meeting to ensure we are "all learning from each other." Our vision is to have RWC be the repository for content delivery. Fellowship training varies all over the world so there's a lack of standards across training programs. We have Japan, Europe, Latin America, the Far East, Middle East and North America participating in RWC's inaugural meeting.
Tarek Hassan, MD (TH): The Retina World Congress resulted from multiple forces coming together. Members of large international and national retina societies such as the American Society of Retina Specialists (ASRS), the Brazilian Retina and Vitreous Society, and many others have worked toward a similar idea of bringing the world's thought leaders together. There are so many good retina specialists conducting significant clinical research and performing great surgery that all this knowledge needs to be shared globally. The retina world is flat and needs to come together to share ideas, findings and outcomes in a forum in which all interested parties are major contributors. This initiative is to share information equally with equitability. RWC has a United Nations feel to it. We look to recognize similarities on concepts and concerns and to teach and learn from one another.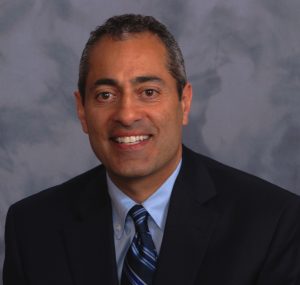 Tarek Hassan, MD 
II) RL: Retina World Congress is a global meeting held every other year. As a member of the Executive Board, are you concerned with competing with other meetings held in February each calendar year?
RS: This is always a question. RWC is open about collaborating. No level of competition from us since RWC will be held every other year. The Executive Board carefully looked at each retina meeting and the timing so there wouldn't be overlap. We did; however, choose a familiar location and venue for our inaugural meeting. The Marriott Harbor Beach in Fort Lauderdale, FL., hosted ARVO for many years. It's comfortable, welcoming and the retina community knows where to go and what to see and do.

TH: We hope to organize something unique and valuable to the retina community. RWC is meant to standalone and be different than other meetings. We look for it to be a gathering place – a conglomeration of all retina societies to share information and influence. Our Executive Board feels strongly about its goal: that RWC is created "by the world, for the world" and is made up of members from all participating societies who are active participants and, most importantly, involved meeting organizers. RWC's big differentiator is that it is not like most meetings that may have an organizing society that invites other societies to present symposia, but rather, it is one in which all societies actively take part in all aspects of planning, presenting, and attending. It is closer to a music festival of many acts than a single concert by one artist with special guests. More contributions mean a "better" show! To attend RWC, simply register and we'll look forward to seeing you on February 23 – 26, 2017 in Fort Lauderdale.
III) RL: Retina has many scientific meetings in the United States and globally during the year. If I have to choose which meetings I will attend, why would I attend Retina World Congress' inaugural meeting?
TH: To see a truly global meeting planned by the many influential thought leaders and societies from around the world. Each presenter represents their country and/or society, as well as being an expert in a specific area of retina, like AMD or macular surgery, as they share with the world. We look to break down geographic and membership barriers. As I mentioned previously, this is like the United Nations – societies collaborating and sharing ideas, techniques and clinical study results.

IV) RL: The program agenda is superb. Will there be an opportunity to discuss each speaker's presentation to start a dialogue with your colleagues?
RS: Great question. The Executive Board consciously limited the number of presentations to 90. At many meetings, the presentation time is so densely packed that there's simply not time for adequate discussion. We have incorporated "discussionary periods" to ensure there's dialogue.

We will have an "Innovative App" so everyone can participate in the meeting as well as have the opportunity to ask questions during the meeting. If there's a question from the audience, we will filter them to foster discussion and every session has a panel discussion.

TH: We are planning an open environment to mix science and discussion. This formula will yield better communication in a casual and open atmosphere.

V) RL: What is your attendance goal for the first meeting in Fort Lauderdale?
RS: We can accommodate a lot of people and can expand beyond our initial target of 500 to 600 retinal specialists.
I believe we will exceed our target for two reasons. First, we have organized a "quality meeting with a quality structure." Secondly, over 98 top-notch world class speakers will present at RWC.
TH: No firm target; however, we would like 500+ in attendance. Our success is measured by attracting the right experienced speakers from all over the globe.
Plan to attend Retina World Congress starting February 23rd in Fort Lauderdale. The meeting organizers will be attending the American Academy of Ophthalmology, AAO, meeting in Chicago, IL. Their booth number is 2677 at AAO and booth number 63 at Retina subspecialty day on Friday, October 14th.
For more information, e-mail Debbie Espe, RWC Executive Director & Board Secretary, Debbie.espe@retinaworldcongress.org. Her telephone number is 619.733.4156 to find out more
about RWC's inaugural meeting that will Unite, Provide an Exchange and Advance the retinal subspecialty.
Rishi Singh, MD can be reached via e-mail at drrishisingh@gmail.com

Tarek Hassan, MD can be reached via e-mail at tsahassan@arcpc.net.