Three weeks ago, I had the opportunity to attend the fourth annual Vit-Buckle Society (VBS) meeting in Miami, FL. Starting in January, I posted various video snippets on RetinaLink's FaceBook page to promote their upcoming meeting. Now, I understand the candid comments made by Drs. Antonio Capone, Ninel Gregori and Carl Regillo outlining why they liked VBS.
VBS004: Licensed to VIT, this year's VBS meeting theme, focused on the latest iconic James Bond:007 thriller, Spectre, and was visible throughout the meeting. VBS provides an open forum that mentors developing vitreoretinal surgeons, nurtures innovative surgical technologies and therapeutic approaches for retinal diseases, and fosters best practices.
The Vit-Buckle Society Executive Committee, Drs. Thomas Albini, Audina Berrocal, Paul Chan, John Kitchens, Derek Kunimoto, Ross Lakhanpal, Geeta Lalwani, Charles Mango, Andrew Moshfeghi and Charles Wykoff deserve kudos on their successful meeting and have exemplified "new think". "New think" is when someone or a group of individuals have a new and creative idea and, ultimately, this idea becomes a reality. VBS started as a small dinner meeting with 30 retina specialists discussing interesting cases at a large scientific congress. Now, the VBS Executive Committee hosts a comprehensive two-day scientific meeting with retina colleagues and vitreoretinal fellows from all over the globe.
Live surgery Friday morning was one of the highlights. Any live surgery is quite an undertaking. When I say, "it takes a village to broadcast Live Surgery", it's an understatement. The surgeons, hospitals, companies and AMI Conference Solutions, made it look seamless. Maria Berrocal, MD, San Juan, Puerto Rico, operated with the ALCON® CONSTELLATION®. Suber Huang, MD, MBA, Cleveland, OH, used the Bausch + Lomb, STELLARIS® PC, J. Michael Jumper, MD, San Francisco, CA, performed his surgical case with Dutch Ophthalmic EVA™ and Daniel Miller, MD, PhD, Cincinnati, OH, used the Synergetics/Valeant VERSAVIT 2.0 platform. On Saturday, ALCON sponsored the Jose Berrocal Vitreoretinal Wet Lab featuring their new technology, NGENUITY®, Digitally Assisted Vitreoretinal Surgery.
The honored speakers featured this year were Dr. Steve Charles, Memphis, TN, and Dr. Timothy Murray, Miami, FL.
Dr. John Kitchens, Lexington, KY, and Dr. Charles sat on the stage and discussed Dr. Charles personal and professional accomplishments.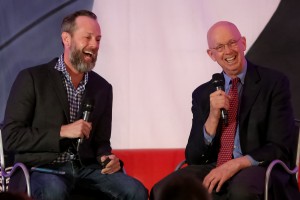 Dr. John Kitchens (l) and Dr. Steve Charles(r)
I luckily had a seat in the SRO (standing room only) meeting room. Dr. Kitchens has a unique approach in his interviewing technique… Quite frankly, it's profound. There were over 200 people listening to their dialogue and everyone listened intently to the entire interview. Dr. Kitchens received numerous compliments thanking him for the opportunity to get to know Dr. Charles better. I asked Dr. Charles about his interview and he said, "John Kitchens is the Charlie Rose of retina; he has an uncanny ability to dissect insight into the driving thoughts underpinning progress in our field." At the end of the interview, the entire VBS Executive Committee gathered on the stage and presented Dr. Charles with the VBS Keynote Speaker award.
Saturday morning, Dr. Audina Berrocal, Miami, FL, introduced Dr. Timothy Murray, MD, who received VBS' Lifetime Mentorship Award, and provided highlights and quotes from Dr. Murray's Fellows over the years. Then, Dr. Murray presented his perspective on Operating Excellence and the importance of Mentorship and Training.
Corporate sponsors are instrumental in meetings. This year's sponsors were Alcon Laboratories, Inc., Alimera Sciences, Allergan, Inc., Bausch + Lomb, Dutch Ophthalmic USA, Genentech, Inc., Insight Instruments, Inc., Iridex Corp., MedOne Surgical, Inc., Modernizing Medicine, Notal Vision, OCULUS Surgical, Inc., Ophthotech, Optovue, Quantel Medical, Regeneron Pharmaceuticals, Inc., Retina Today, RetinaLink, Santen, Inc., ThromoboGenics, Inc., Topcon Medical Systems, Visunex Medical Systems, Vitreq USA and ZEISS. Drs. Jorge Fortun, Geeta Lalwani and John Kitchens walked around the exhibit area and made corporate sponsor introductions.
There are many scientific meetings in a calendar year for retina specialists to attend and the annual Vit-Buckle Society meeting is one of the best meetings I've attended. The attendance will continue to increase each year and now, I know why VBS is such a great meeting and congratulations to the VBS Executive Committee on a very successful meeting.
Mark your calendar for the fifth annual VBS meeting scheduled for April 6 – 8, 2017, at Caesars Palace in Las Vegas, Nevada. Contact Medical Conference Planners, Inc., for information, http://www.medconfs.com or e-mail vbs@medconfs.com. In addition, detailed general information about Vit-Buckle Society can be found at http://vitbucklesociety.org
Photography: Kevin Caldwell http://kevincaldwellphotography.com