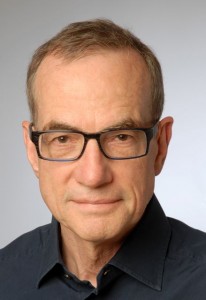 For many years, I have truly enjoyed sitting towards the back of the room at AAO Retina Sub-specialty day. I sit here so that I may observe all the attendees and see what interests them most. This is especially enjoyable for me during the Coolest Video section. On this particular day, all listened intently to Professor Claus Eckardt, Frankfurt, Germany. Their eyes were all focused on the large video screen in the room, awaiting Professor Eckardt's description of Heads-up surgery. Moderators for this section were Dr. Tarek Hassan, Associated Retinal Consultants, Royal Oak, MI, and Dr. Donald J. D'Amico, Cornell-Weill, New York, New York. The assembly of panelists included, Mark W. Johnson, MD, J. Fernando Arevalo, MD, Steven D. Schwartz, MD, Virgilio Morales-Canton, MD, Pauline T. Merrill, MD and Lihteh Wu, MD.
OVERVIEW:
Professor Eckardt first demonstrated Heads-up surgery at his Frankfurt Retina Meeting in March 2014. The impetus for Professor Eckardt to start evaluating this technology was that he was contemplating what he might showcase at Frankfurt Retina. According to him, "there's a high motivation to show something new to the audience of 1,000 retinal specialists." He also added, "I wanted to show something new. There are not a lot of new products in Retina surgery." He commented "We had already used 3D technology for the live video feed so I tried Heads-up surgery using TrueVision® 3D and it worked. My patient from the live surgery presented with a sub-retinal fibrovascular tumor. In Heads-up surgery I wear 3D glasses and operate while viewing a 3D image on a large display instead of looking through the eyepieces of a microscope." Professor Eckardt's first case to evaluate this technology was a combined procedure. His capsulorhexis required approximately 10 minutes. He, then, completed the core vitrectomy and membrane peeling and the rest is history. The first case took awhile because there's a small learning curve. I asked him to elaborate on the learning curve aspect. 
LEARNING CURVE:
He said, "one of my Residents, who's very talented and surgically inclined, started with a traditional microscope. After approximately 90 procedures, she transitioned to Heads-up surgery and feels very comfortable with the technology. To date, she's completed 34 cataract procedures and after two cases, she had perfect results. Her experience with Heads-up will be presented at the upcoming German Cataract and Refractive Meeting in late February." So, assuming the retina specialist adopting this technology operates approximately two days per week, it will take them about three weeks to become comfortable and make the transition from traditional microsurgery technique. Over the past 12 months, Professor Eckardt has employed Heads-up surgery using the TrueVision® 3D technology routinely each day, five days a week.
TRAINING:
Professor Eckardt trains Residents and Fellows at Klinikum Frankfurt Hoechst and has completed 1,200 to 1,500 procedures with the TrueVision® 3D technology and believes Heads-up surgery is optimal for training Residents and Fellows. Everyone can observe the surgical procedures on the display and gets exactly the same image. He commented that this technology is "much better for the teacher and the surgeon in training, since it is less stressful viewing an image on a large 46" screen instead of looking through eyepieces."
ERGONOMICS:
According to Professor Eckardt, "the sitting position of the surgeon during Heads-up surgery is considerably improved over traditional microsurgery. The surgeon can adopt a much more comfortable upright posture instead of having to maintain a slightly bent forward posture to look through the eyepieces. Six or eight hours of surgery are no longer a problem. Even after a long day with many difficult cases I don't feel any back or neck pain."
RESOLUTION, DEPTH OF FIELD & STEREOPSIS:
The AAO panelists during the Coolest Video session had several questions about the quality of the image. I asked Professor Eckardt to compare the optical quality of the 3D image to that of the traditional microscopic technique. He said, "the resolution of the current TrueVision® 3D system is a factor of 2 lower than that of traditional microsurgery with eyepieces. This appears to be quite a big difference; however, during surgery you don't see it due to the advantage of the large image on the screen. With regard to the depth of field and the stereopsis, there's no real difference."
DIGITAL IMAGE PROCESSING:
Sufficient illumination has always been a problem in vitreoretinal surgery. Usually, one has tried to solve this problem by increasing the intensity of the light source. With Heads-up technology you don't have to put more and more light into the eye. Professor Eckardt stated, "the ability to apply digital image processing, especially electronic amplification of the camera's signal, is an important advantage by which you can increase the brightness and improve the quality of the image without any additional risk of light toxicity." 
THE FUTURE:
TrueVision®3D is adaptable to Leica, Zeiss and Haag-Streit microscopes.
Professor Eckardt finished our conversation by saying, "it's a breakthrough and I'm absolutely convinced in a few years, only a minority of surgeons will be using oculars."
Professor Eckardt has submitted his extensive Heads-up surgery manuscript on his clinical and experimental studies to the peer reviewed publication, RETINA.