Dr. Thomas A. Albini, Bascom Palmer Eye Institute, Miami, FL, recently interviewed Drs. Steven Yeh, MD and Jessica Shantha, MD, from Emory University about their experience in West Africa.
Dr. Albini:
How did you first encounter Ebola related uveitis?
Dr. Yeh:
Starting in the summer of 2014, US healthcare workers were repatriated back to the US as a result of acquiring acute Ebola virus infection. I work at Emory University, which is closely associated with the US Centers for Disease Control and Prevention, CDC. Following the repatriation of health care workers with Ebola virus disease (EVD). I contemplated what kind of eye disease these health care workers with EVD could be at risk for developing. It turns out that in the Congo during the 1990's, there were three patients out of 20 in one report, who developed uveitis of varying severity and phenotypes. Consequently, I e-mailed Jay B. Varkey, M.D., who was involved with EVD care at Emory, to let him know that I was willing to examine his patients should any of them develop eye disease. In early November 2014, Dr. Varkey called and told me that patient #3 (i.e. the third healthcare worker with Ebola brought back for treatment to the US) had developed eye problems. Patient #3 turned out to be Dr. Ian Crozier. He was diagnosed with Ebola while working as an ID specialist in West Africa. He ultimately was not only a patient, but he utilized his vast experience and knowledge in the management of Ebola infection to play a key role on his own treatment team.
When I first saw Dr. Crozier, he had been cleared of active Ebola per CDC guidelines. He presented with mild visual disturbance and some peripheral chorioretinal scars of unclear significance. They were bilateral, symmetric and similar to scarring seen in West Nile virus chorioretinitis and we planned a follow-up visit in one month. When he returned for his follow-up examination, he called me reporting unilateral visual blurring and intense eye pain, which was concerning initially for angle closure glaucoma.
Dr. Jessica Shantha and I examined Ian at the time of his acute presentation, and noted his angles were open but he had acute unilateral hypertensive iritis. His condition then worsened over the next 2 to 3 days. The anterior chamber inflammation escalated. And, we considered the possibility that other viral etiologies, such as Cylomegalovirus, CMV, which has been reported as a co-infection in Ebola were the causative agents. Our differential diagnosis also included persistent Ebola intraocular infection. There was a report from the 1970's of Marburg virus, another Filovirus, being cultured from the eye of a patient with hypertensive iritis. We did not anticipate that we would find Ebola; however, we performed an anterior chamber tap and subsequently quantitative reverse transcriptase PCR from intraocular fluid. The PCR was indeed positive for Ebola with a PCR cycling threshold suggestive of an extremely high viral replication. The treatment regimen initially involved traditional anti-inflammatory topical medications. We then escalated to oral prednisone. At his worst, Ian's vision had dropped to Hand Motion. Fortunately, with a combination of therapies including antiviral therapy and periocular steroid injection, Ian's vision improved to 20/20 and he's continuing to recover.
Dr. Albini:
Jessica, how did you become involved in Ian's care?
Dr. Shantha:
As a senior resident at the Emory Eye Clinic, I examined Dr. Crozier with Dr. Yeh on most of his visits. We saw Dr. Crozier before he developed iritis, and then when he developed uveitis I was involved in his care. At one point, we were examining him daily. Initially, we examined him on weekends when the clinic was closed. We followed universal, contact and infection control protocols including constantly foaming our hands and wearing gloves when we were working with Dr. Crozier.
Dr. Yeh actually performed the AC tap. Before we performed the AC tap we assayed conjunctival and tear samples by PCR for Ebola to ensure he was not shedding virus particles. We repeated the tear PCR 24 hours after the procedure. The PCR of ocular surface fluids tested negative and that certainly alleviated our concerns about contagion. He was not febrile and according to CDC guidelines he was not contagious.
Dr. Albini:
What did you then find out about uveitis in other Ebola survivors?
Dr. Shantha:
Initially, when we contacted West Africa we honestly didn't know what was going on with Dr. Crozier's eye. The natural course of Ebola eye disease had not been described. Dr. Yeh and I wanted to know whether physicians in Africa were familiar with these types of complications so they could advise us with Dr. Crozier's care. We sent many e-mails and got a little bit of feedback, but not much. After treating Dr. Crozier, we asked ourselves whether Dr. Crozier was an outlier or whether this was a recognized complication that was completely going unnoticed in other Ebola survivors in West Africa? Perhaps the main goal of the Ebola providers in Africa was to keep people alive and ocular complications really weren't at the forefront of medical care in terms of priority due to severe systemic illness. We ultimately wanted to see if our experience with Dr. Crozier could translate into care for a large number of Ebola survivors in Africa, many of whom had lost their family members to Ebola and they, too, could potentially develop visual problems or even go blind. 
Because of the difficulty in making contacts in West Africa, we spent a substantial amount of time e-mailing a number of different NGO's as well as providers that might have contacts with the individuals treating these patients. Certainly a stroke of luck, Dr. John Fankhauser, lead clinician at ELWA Hospital in Monrovia, Liberia, reached out to Dr. Yeh. He expressed his concern that a number of his patients had experienced red eyes and visual complaints, which warranted urgent evaluation.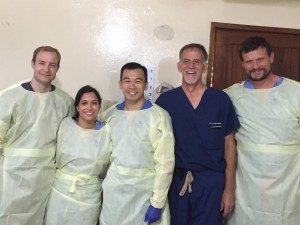 Emory/Quiet Eye West Africa Project Team at SIM/ELWA Hospital in Monrovia, Liberia (left to right): Dr. Brent Hayek (Emory), Dr. Jessica Shantha, Dr. Steven Yeh, Dr. John Fankhauser (ELWA Hospital) and Dr. Ian Crozier
SIM/ELWA Hospital supported our first trip to Liberia for travel, equipment, and supplies through the efforts of Dr. Fankhauser. He wanted to set up an outpatient eye clinic for the Ebola survivors. We also received significant support from ALCON® (a division of Novartis). Many of these Ebola survivors were known to have ocular complaints, but we could now determine whether they were suffering from uveitis and initiate treatment or referral as needed. The World Health Organization, WHO, reports up to 50-60% of Ebola survivors have ocular symptoms; however, it's not clear what percentage of these patients have uveitis. Now, there's a focused effort ongoing in Sierra Leone by the Ministry of Health and Sanitation (MOHS), WHO, Partners in Health and in Liberia with the MOHS, the National Eye Institute, National Institutes of Health and other organizations to better classify eye disease and broadly consider management strategies in Ebola survivors.
Dr. Albini:
What did you think about the risks you were taking going to Liberia?
Dr. Shantha:
The Ebola survivors we encountered in Liberia had been treated, were afebrile and cleared by CDC guidelines. We contemplated and consulted many authorities on how to best proceed. Among the precautions we took, all patients were screened for fever and symptoms. Nevertheless, we knew it was possible for the virus to survive in the eye even after CDC guidelines were met. Of note, there was one report of a positive conjunctival specimen following resolution of initial infection. Since we treated Dr. Crozier successfully without any problems, we were less apprehensive than we may otherwise have been. On the other hand, we were certainly aware of the inherent risks for healthcare providers going to West Africa.  
By virtue of meeting Dr. Crozier, we had the unique experience with this particular Ebola ocular complication. Traveling to examine Ebola survivors in Africa was important to provide subspecialty care and provide guidance, whether patients are located in Africa or the United States. You may be wondering what motivates us and it's simple, we want to help individual patients in Africa. Some people think we're crazy, including some of my co-residents.
Dr. Yeh:
After seeing how severe the inflammatory process was, we were motivated to help the survivors. It was really disheartening after our initial trip because we encountered many patients without access to eye care. We talk and hear a lot about the disparities in health care globally and it's a real issue. It's challenging to manage difficult uveitis in the US with all available resources. In Liberia, access to topical steroids is limited so ALCON's donation was essential to our efforts.
Even if you're being conservative and there's a 10-20% incidence of uveitis among the 13,000 Ebola survivors in West Africa, you're estimating approximately 1300-2600 patients will develop a disease that is potentially blinding but can be treated when appropriate healthcare professionals and supplies are available. These survivors have already lost so much, including multiple family members in some situations, you immediately are motivated to help. 
Dr. Albini:
Are you going back to Africa?
Dr. Yeh:
We continue to work with Dr. Fankhauser and additionally, we are planning trips to clinics in Sierra Leone. We are working in conjunction with local ophthalmologists, the Ministry of Health and Sanitation, World Health Organization, Partners in Health, Helen Keller International, and many other partners involved in Ebola survivor care in preparation for our next trip. Thankfully, we also have generous corporate support from both ALCON® and Santen, Inc. Because of the importance of these issues to West African Ebola survivors, we're grateful that these efforts are gaining momentum in the ophthalmology community, the international health community and our industry partners.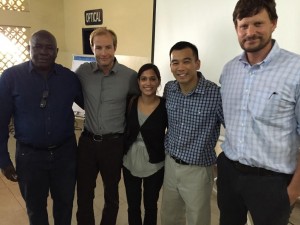 Lowell and Ruth Gess Eye Hospital (Freetown, Sierra Leone): Dr. Matthew Vandy (Sierra Leone ophthalmologist), Dr. Brent Hayek, Dr. Jessica Shantha, Dr. Steven Yeh, Dr. Ian Crozier
Dr. Albini:
What are your hopes for healthcare delivery and Ebola survivors?
Dr. Shantha:
Now, that the acute illness is under better control healthcare workers can shift their attention to the complications seen in survivors. Aside from eye problems, many of the survivors also get joint pain, headaches, hearing loss, hair loss, and back pain. All these issues will have to be addressed including uveitis. I do hope that our work ultimately is a part of the effort to improve eye care in this part of the world. While its acute in scope, this effort is to help Ebola survivors, and our hope is that the eye care infrastructure improves. Ultimately, this may help people with more routine eye disease that requires attention.
Dr. Yeh:
Some of these countries have recovered from civil war and now face a difficult recovery from the loss of healthcare providers. It's imperative to facilitate the mechanism of information exchange between experts around the globe and physicians, nurses and providers in the daily trenches of this outbreak. There's tremendous need for eye care in this part of the world. Sierra Leone has about 6 million inhabitants, two ophthalmologists and a modest number of cataract surgeons, ophthalmic nurses and mid-level eye care providers. There is no vitreo-retinal trained ophthalmologist in Sierra Leone or Liberia that we have encountered. Many patients we saw in Liberia had more routine eye disease like glaucoma or retinal detachment, which were difficult or not possible to treat in some patients, because of medication and infrastructure limitations. West Africa has been devastated by the hundreds of healthcare workers who have died taking care of Ebola patients, and this effort is really just one small part of what these countries need. Our hope, as Dr. Shantha mentioned, is that ultimately the resources and attention to this region will lead to improved infrastructure for subspecialty eye care in the future.
Dr. Steven Yeh can be reached via e-mail @ steven.yeh@emory.edu