Each year the Vit-Buckle Society, VBS, Executive Committee presents their Lifetime Mentorship award to a retina specialist who has gone above and beyond training fellows and making a difference in retina. Previous recipients include Drs. Evangelos Gragoudas, Harry W. Flynn, Jr., and Allan E. Kreiger.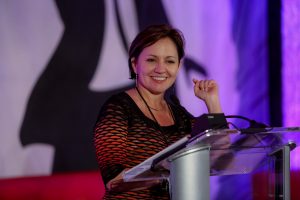 Dr. Audina Berrocal presents Vit-Buckle Society's
2016 Lifetime Mentorship Award to Timothy G. Murray, MD, MBA, FACS
Associate Professor Dr. Audina Berrocal, Bascom Palmer Eye Institute, Miami, FL, provided the VBS audience an engaging capsulization of Dr. Timothy G. Murray's early childhood and training as she introduced him as the 2016 VBS' Lifetime Mentorship Award honoree. Dr. Berrocal said, "Dr. Murray's leadership in retina and his ongoing commitment and pursuit of excellence in clinical care for his patients is exemplary. He has received numerous awards over the years and published over 300 peer-reviewed articles."
RetinaLink is honored to feature Timothy G. Murray, MD, MBA, as VBS' Lifetime Mentorship recipient and pleased to provide you a glimpse into his background and Mentors, training fellows, leadership, thoughts about women in retina and what motivates him.
I) BACKGROUND:
RetinaLink (RL): What were you "like" as a child?
Timothy G. Murray, MD (TGM): I was fairly quiet and shy socially, not so much academically. I "lettered" in three sports – a television quiz show called VARSITY QUIZ, tennis and golf. I went to high school in Okinawa, Japan (probably why I was able to letter in tennis and golf).
RL: Do you have any hobbies?
TGM: I love the water, ANYTHING to do with the water. I lived on a 42 foot sailboat for my first five years at Bascom Palmer. I love to scuba dive, boat, swim, and frolic in the water. I bought the boat I have now while taking Fellow applicants to Monty's after their interviews.
RL: Why did you embark in a career in ophthalmology? Did you have an "AHA" moment?
TGM: I went to Johns Hopkins in a combined BA/MD program. During my first year, I spent time with Drs. Dick Green and Stuart Fine and I was hooked. I assisted in surgery on one of the Supreme Court Justices and the President called during the surgery. VERY COOL for a young medical student.
RL: When and why did you decide that vitreoretinal surgery was for you?
TGM: I knew immediately that I LOVED surgery. During my time with Dr. Green and Dr. Fine, I realized that retina would incorporate my interests in intraocular tumors, retinal pathologic disease, AND surgery. I utilized an animal model to evaluate drug delivery in vitrectomized eyes. The hands on vitrectomy surgery in this early work convinced me that vitreoretinal surgery was my passion.
RL: What would you tell a young ophthalmologist who is thinking about specializing in retina? How do you see retina is going to change in the next 20 years.
TGM: Retina is the most compelling subspecialty in ophthalmology. The opportunity to take care of patients of all ages, and to continue their care through YOUR career is both fascinating and a remarkable opportunity to view the impact you make on your patients' QOL, quality of life. I am especially enamored of both the surgical and medical sides of our specialty.
Ultimately, I foresee major changes in the field of retina. The impact of novel pharmacotherapies, advances in gene therapy, utilization of stem cells, and advances in surgical technology and technique should revolutionize retina. Further, much of these advances will take place FIRST in the field of retina before expanding broadly within ophthalmology.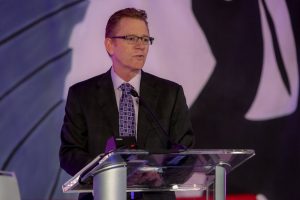 Timothy G. Murray, MD, MBA, FACS
RL: You are such an innovative thinker, what has made you that way?
TGM: I feel as if I am representative of much of Retina. As a field, we provide innovative, novel care ROUTINELY during our medical and surgical days with our patients. For me, my interest in ocular oncology drove much of my innovation as virtually ALL therapies were off-label and required integration of multiple medical specialties to provide my patients with the best care.
I truly believe that Retina requires continuous learning to provide our patients with the opportunity to maintain both vision and QOL. I am a voracious reader of everything and that continues to provide the opportunity to think outside of the box by incorporating advances in imaging, pharmacology, oncology and surgery, often in combination that ultimately, enhance our outcomes. Being active in the national and international meeting community, being involved in our specialty societies, and listening to the needs of our patients will give you the tools to innovate within your practice. Teaching, either residents/ fellows/or other physicians, is often the best way to learn.
II) PATIENTS & THEIR FAMILIES:
RL: Why tumors? What is the best advice to give Ophthalmologists who deal with cancer and death? How do you talk and consult with these patients and their families?
TGM: I remember thinking at Johns Hopkins that I hated cancer. Lo and behold, 25 years later, cancer is what I deal with daily in my clinical practice. I found myself driven to this field by my research interests in retinoblastoma and melanoma, by the NEED for better treatments for our patients but also the need for better ways to evaluate treatments for these rare diseases, and by the realization that as an ocular oncologist I could improve the lives of my patients (both the children and families with retinoblastoma, and the adults with melanoma).
What has enabled me to continue to practice is the remarkable opportunity to save lives. The discussion I have with my patients and families focuses on the positive impact of care. For our eye cancer patients, cancer is NOT a death sentence. Nonetheless, it continues to torment me that these diagnoses have such a terrible impact on the family, particularly for our youngest patients. We have an ocular oncology foundation aimed at improving care. I hope this foundation will focus on not just the patients, but also the families and how we can best help them. Lots of work and little understanding of how to support the family not just take care of the cancer.

RL: Of the cases in your life, what have been the hardest times as an eye oncologist?
TGM: I recently lost a beautiful young baby with trilateral retinoblastoma. She fought through all of her care, was managed by the neuro-oncology teams at Miami Children's Hospital, MCH, and Memorial Sloan Kettering, MSK, and passed away with a progressive brain tumor (PNET). She had an incredible spirit and amazing parents and it saddens me that we could not save her. I have a second child, who had optic nerve invasion at the time of enucleation, and I continue to worry that he will do well. My hardest times focus on the unfairness of children experiencing these devastating diseases. Somehow it is "easier" when we are adults even though cancer is never "fair".

RL: As hard as it is teaching vitreoretinal surgery, you have not given that up. Why?
TGM: Teaching is our way of giving back to our profession. I truly didn't understand the remarkableness of my teachers until I became a faculty member at Bascom Palmer Eye Institute. I trained in Milwaukee where the focus was absolutely driven by "hands-on" teaching. I performed a membrane peeling for a patient with a dense epi-retinal membrane and 20/40 visual acuity. I thought nothing of the fact that MY professor watched me do this. Two years later, I nearly "died" watching MY fellow peel the ERM in a 20/100 eye and I IMMEDIATELY appreciated how incredible the commitment is for those that teach surgery. Teaching, especially surgical training, is both a passion and an art. Hopefully, as a profession we will not lose our commitment as vitreoretinal surgery is truly a learned skill. Finally, surgical teaching, more than anything else, continues to hone YOUR skills. Even now, I find myself learning as much from those I teach as they learn from me.

RL: What gives you the greatest satisfaction as an attending?
I think that the greatest satisfaction for me as an attending is seeing the young ophthalmologists that I have helped to train succeed. I remember both Dr. Victor T. Curtin and Dr. W.D. Norton truly treasuring the success of their students. Dr. Norton did not care whether you pursued an academic career or private practice, but he did believe that you should enhance the community by bringing the skills that you had been taught and truly representing the best in your field. I have been blessed to have trained some of the most amazing young physicians. To see them be leaders in their field, their community, and their institutions has made me very proud.
III) TEACHING/TRAINING FELLOWS:
RL: Explain your teaching philosophy on surgery.
TGM: It's a four-step process.
Surgery is an acquired skill.
Didactic lecture is OK.
Observation is better.
Active participation is always BEST.
RL: How does your teaching philosophy differ from where you trained?
TGM: I did my training at Johns Hopkins, Wilmer Eye Institute, in Baltimore, MD. The training process was See one, Do one, Teach One. This method is not always best for the patient or the mentor.
RL: What are the important characteristics of a mentor?
TGM: The best mentors are leaders first and foremost. In many instances, you don't often appreciate the impact of your training until later in your career. A great mentor pushes you just beyond your comfort zone and EXPECTS you to perform. Finally, I believe that mentors lead by example. I never expect my training colleagues to do anything that I cannot, or will not, do. One thing that has helped me as a mentor is feeling comfortable dealing with potential complications. Ultimately, when teaching you provide a safe environment for the young surgeon that minimizes the inherent stress of surgery. I still remember the Boy Scout motto (as all old eagle scouts must), TRUSTWORTHY, LOYAL, HELPFUL, FRIENDLY, COURTEOUS, KIND, CHEERFUL, THRIFTY, BRAVE, CLEAN and REVERENT. (However, I still have problems with reverent).
I do recognize; however, we should all recognize that "Mentorship Training is the single biggest influence on a young surgeon." Other important characteristics include, training environment, Attending's attitude and approach and finally, expectations.
Quite frankly, there are mentors throughout your career, Residency, Fellowship, Junior Attending and Attending/Partner.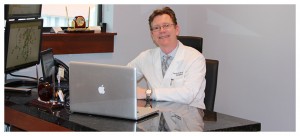 Dr. Timothy G. Murray
Murray Ocular Oncology & Retina, Miami, FL
RL: What are the good qualities of a fellow and which quality do you cherish the most? And, the follow up question, the worst quality?
TGM: When I started teaching I thought that brilliance was the most important quality for a fellow, but now I can say that my favorite quality is GRIT. I love a fellow that never quits and understands the importance of perseverance. I am also a person who values forwardness and honesty. I will suggest that a fellow must be true to themselves – speak up, never do something that you do not understand, never compromise your values.

For me, the worst quality of an individual is the inability to be truthful. Nothing worse than talking behind your back, especially when it involves the unique relationship that surgical training requires. The fellow that does not DO what they SAY, is unwilling to learn, is not compassionate and ungrateful – that is the fellow that is hard to teach.
RL: What is your favorite saying in the OR?
TGM: I have several favorite sayings. I can't narrow it to one…
THINK PHAKIC
LEAD WITH YOUR VIEW
PHACO is NOT the ideal way to remove VITREOUS
PEDAL to the metal
YOU CAN'T CUT WHAT YOU CAN'T SEE
RL: What makes a superb surgeon?
TGM: 10,000 hours. What does that mean… Studies have been conducted and show that it takes 10,000 hours to become good at something. You have to practice and continue to evolve to become superb.
The qualities that make a great surgeon are often less innate then I had first believed. Most surgeons are not superb when they start their career. A lifelong commitment to improve, an absolute focus on the outcomes for your patients, a willingness to incorporate new techniques and technologies into your armamentarium, the ability to learn throughout your career. Finally, continuously reviewing your outcomes drives improvement. When I hear someone present better outcomes data then I have achieved, my FIRST question is always how can I do better. It amazes me that many physicians when hearing better outcomes for vision, anatomy, lower complications, enhanced patient recovery, think first that the data does not reflect THEIR practice or THEIR patients and thus never strive to improve THEIR outcomes.
Be humble. Always think patients first.
IV) YOUR MENTORS & MENTORING:
RL: How have you changed as a mentor with age and maturity?
TGM: My surgical approach TODAY did not exist 25 years ago. You have to establish a foundation for life-long learning. Medicine (and especially vitreo-retinal surgery) is in continuous evolution.
Now, I'm more comfortable with teaching and more aware of differences within the individuals that I train.
RL: In your career, who do you think have been your mentors?
TGM: I was blessed by amazing mentors throughout my career. I would NOT be the clinician that I am today without the phenomenal teaching that I enjoyed. I had some of the best surgical mentors in our field – Dr. Gary Abrams, Dr. William Mieler, Dr. Dennis Han MADE me the retinal surgeon that I am today. Drs. Green and Fine, as I mentioned earlier, drove me to Retina with a passion for oncology. Drs. Norton, Curtin and J. Donald M. Gass welcomed me to Bascom Palmer and practiced with me early in my career. Dr. Curtin "adopted" me into his family sharing virtually every holiday with me. Dr. Harry W. Flynn, Jr. was always the voice of retina at Bascom Palmer for me. Truly, I cannot EVER thank them enough for giving me so much. I hope that I can pass down the gift that these amazing individuals gave to me both in my clinical and LIFE experiences.
RL: What is the most important thing you tell your mentees?
TGM: In life, you have to question everything, but first start with yourself. I tell my Fellows and my daughters to "surround themselves with EXCELLENCE" and my motto is GRIT, GRIT and more GRIT.
Be honest, be ethical, be your best. Your training is what you make it, MAKE IT THE BEST.
V) PRESENTING AT MAJOR MEETINGS:
RL: You speak really well in public, how did you become such a good speaker and what in your opinion makes a good speaker?
TGM: I mentioned the 10,000 hour rule earlier. It takes 10,000 hours to become proficient by practicing your skill. This holds true in surgery and when you are presenting from the podium.
What you do often, you do WELL.
I was NEVER a great speaker. I remember my first presentation at a major meeting. First, I did not realize it was a major meeting, Second, no one from my research group was present, and third, the person that spoke right before me had won the Nobel Prize. It was the first meeting for magnetic resonance spectroscopy and I was a second year medical student at Hopkins. I almost had a stroke when I realized 1,500 people were in the audience. From that point forward, I realized the key to speaking is being the most knowledgeable person in the room about your topic. I NEVER use a written presentation, I try to acknowledge the audience by looking toward the room, I use slides that support the presentation and focus the audience, and I truly enjoy having the opportunity to field questions. Ultimately, excellent preparation and practice are the keys to great speaking.
RL: How do you prepare for talks and what makes a good presentation?
TGM: Engage your audience, use your slides to focus your talk, be prepared to discuss EVERYTHING related to your talk, KNOW your subject, HAVE FUN.
VI) WOMEN & RETINA:
RL: How do you see about women fellows? How do you thing women will change vitreoretinal surgery?
TGM: We need to be "blind" to whether a fellow is a woman or a man. I see no difference in their innate abilities. However, I do think that many of the women I have trained have been incredible in their skills. When I began my career, women were still underrepresented in our training field, now gender does not seem to be an issue.
RL: What do you see as the greatest obstacles women in retina face today?
TGM: Truthfully, some of the toughest critics for women in retina have been senior women in the field. Women are now playing major roles in virtually every aspect of ophthalmology. I do hope more women will pursue leadership roles in our field as this remains the one area that women remain underrepresented. One important mantra remains, "don't tell them what you can do, SHOW them."
RL: Why do you think there are such few women in leadership positions in retina?
TGM: Retina is a demanding specialty that requires extensive time to JUST practice our craft. Leadership positions extend that time commitment. From my vantage point, few people, whether man or woman, are driven to assume leadership roles. As more women are practicing retina, I foresee more women choosing leadership roles in our field.
RL: How can we change that?
TGM: Leadership roles in retina exist at local, regional, national and international levels. I KNOW that many societies actively seek women to participate in these roles. For a woman retinal specialist interested in leadership, I would suggest that you begin with membership in the specialty societies, American Society of Retina Specialists, ASRS, RETINA Society, MACULA Society, and Club JULES GONIN. It's also important to participate in your state ophthalmological society along with the American Academy of Ophthalmology, AAO.
VII) LAST QUESTION:

RL: So if you had to write your epitaph, what would that be?
TGM: Great father, great friend, great doctor. He loved what he did.
Dr. Timothy Murray can be reached via e-mail at tmurray@murraymd.com
Photographs: Courtesy of Kevin Caldwell Photography